Published: September 30, 2004
When I was a kid, my father proved himself a powerful wizard when he magically stuck a balloon to the wall just by rubbing it on his head. Of course,
Published: April 30, 2004
Battling static buildup in its slitting process, one nonwovens converter gets results with Simco's static elimination systems.
Published: April 01, 2004
When it comes to the subject of everyone has some degree of experience. However, the wetting of a film by a printing ink is a complicated physical/chemical
Published: April 01, 2003
Most flexible packaging plants can measure surface tension of their films by using dyne solutions. The dyne solutions are chemical mixtures that have
Published: February 01, 2003
Converters of hard-to-treat and thicker substrates will benefit from using an alternative to corona treating—the atmospheric plasma method.
Published: May 01, 2002
PARIS, FRANCE -- According to DuPont Chemical Solutions, as part of its strategy for sustainable growth, the co. has reached a business agreement with
Published: December 01, 2001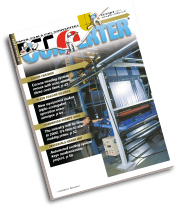 A new production line at Optimum Plastics is the impetus for a new, portable corona treater system from Corotec Corp.
Published: October 01, 2001
Converters in need of surface-treatment information now may be able to get it from Enercon's surface-treating lab. Enercon Industries Corp. says it's added a Friction/Peel Tester to its laboratory to help customers identify the effects of various levels and types of surface treating.
Published: August 10, 2001
INCHINNAN, SCOTLAND, U.K. The Web Guide Clean Machine (WGCM) enables printers to clean and guide their webs simultaneously. Co. says cleaning and guiding
Published: February 01, 2001
Application
: Specialty films that require stringent surface morphology specifications, specific surface modification, precise surface coating, or tightly controlled electrical characteristics will benefit from atmospheric plasma treatment.
Published: October 01, 2000
Conductive or nonconductive? That is the question, and it's the premiere question when it comes to choosing a corona treater, says Ron Seaman, VP, Corotec