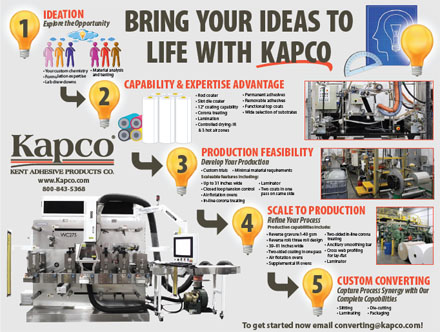 We specialize in responsive Product Development that leverages our capabilities to both coat and convert along with our extensive process and material knowledge.
Contact us now to see how we can enable your Product Development with our Responsive customer service and ability to leverage our Coating and Converting capabilities!
Founded in 1974 in Kent, Ohio, Kent Adhesive Products Company (KAPCO) is a Coater of adhesive and functional top coatings and a Converter of flexible materials for a multitude of markets ranging from packaging, printing, appliance, medical, electronics, automotive to sign shops, printers, and libraries. With our focus on transforming materials into our customers' success the list of industries continues to grow.
KAPCO, Partnering for Mutual Success!
Contact • Jenifer Codrea • This email address is being protected from spambots. You need JavaScript enabled to view it. • www.kapco.com • 800-843-5368