---

The Importance of Bladder Inflation Monitoring in the Converting Industry
By Michael Van Deurse, Edited by Kyle Willis
Companies are constantly looking for ways to differentiate themselves from their competitors with higher quality products, increased throughput, and reduced waste. It is more important than ever to have proper quality assurance in place on your production line to make sure your company delivers value to the customer. This article discusses critical, yet often overlooked, components of the converting process, the unwind and rewind shafts, and how their bladders affect production quality and safety. We detail how these components impact the production process and new ways to guarantee that your operators are using them correctly.
Download Bladder Inflation Monitoring System white paper
---

Web Tension Control Fundamentals
Web tension control refers to the process of controlling tension while transporting a web. Accurate and stable tension control ensures the highest product quality and productivity. An optimized web tension control system will ensure that the correct tension is maintained for any type of material, at any section of the machine and regardless of speed or process conditions.
This paper is a review of the fundamentals of web tension control, covering the following topics; Machine sections (unwinds, rewinds and driven machine sections) and the critical tension control issues for each. Web tension sensors and components, dancer systems and accumulators. Load cell selection and dancer system design criteria. Methods of tension control, open and closed loop control. Modes of tension control i.e., speed and torque and their proper application. The effects of web compliance on tension control and control method considerations.
Download the Siemens Web Tension Control Fundamentals white paper
---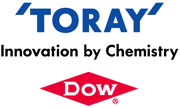 Designing a Successful Retort-Grade Packaging Structure
The retort pouch continues to gain acceptance globally among consumers who value the convenience of microwaveable meals and "on-the-go" packaged food.
Designing a successful retort-grade packaging structure requires choosing robust films and adhesives designed to withstand the rigors of the converting process and the high heat and pressure of retort sterilization.
A lamination using Toray's Barrialox® SB-R2, a new ultra-high-barrier, transparent, aluminum oxide-coated polyester film with high thermal and mechanical stability, and Dow Chemical Co.'s ADCOTE™ 812-ADCOTE™ 811B retort-grade laminating adhesive, known for its adhesion to a range of structures and its strong chemical resistance, proved successful in testing.
Download the Toray-Dow Retort-Grade Packaging Structure white paper

Methods and Design Considerations for the Application of Hot Melt Coatings
- Written by New Era Converting Machinery's Tom Lombardo and Bob Pasquale.
As the use of hot melt coatings continues to grow and evolve so too have the operating parameters and requirements for applying these coatings. This article covers several of the coating methods currently used to apply hot melts, including a review of the typical operating parameters and conditions for each method. as well as the associated advantages or disadvantages. Additionally, we discuss the critical features that should be incorporated into the design of the application system. Though we touch upon the systems that are used to melt and deliver the hot melts to the coater, we do not cover them in any detail.
Download New Era's Hot Melt Coatings White Paper
---

Hermetic-Seal Performance of BOPP Laminate Structures in VFFS Pouch Applications
Film designs and sealant-resin choices can significantly improve the seal integrity and hermeticity of pouches.
Hermetic sealability is a key performance characteristic for creating a pouch structure and evaluating overall performance. Hermetic seals will extend the shelf life of a product, thereby improving the consumer experience. Ideally, a hermetically-sealed package will maintain integrity in circumstances when a product requires an extended shelf life and when it is shipped through varying altitudes.
In Part 1 of our two-part White Paper series about hermetic seals we examined the improvement of hermetic-seal qualities of selected BOPP-based laminations in VFFS pouch applications.
Download Toray Plastics (America)'s Hermetic-Seal Performance white paper, Part 1
---

BOPP Laminate Structures for "Over-the-Mountain" VFFS Pouch Applications
Beat the burst and extend the shelf life of snack food packaging.
In this second white paper of our two-part series about film designs and hermetic seals, Toray examines a selection of heat-sealable BOPP-based laminations in VFFS pouching for Over-the-Mountain (a k a OTM) packaging applications that navigate high and changing altitude and atmospheric-pressure conditions. In high altitudes the air pressure outside the package decreases, causing the package to inflate, which puts additional stress on the seals.
Studies were conducted to address consumer product goods manufacturers' need for more effective packaging of snacks because of the challenges of evolving distribution methods and multi-channel distribution outlets, including OTM transport, warehouse clubs, and e-commerce, and global expansions, which now necessitate extended product shelf-life.
Learn how new film designs provide significantly improved hermetic seal properties and more-robust seals prevent bursting and a compromised package appearance.
Download Toray Plastics (America)'s Hermetic-Seal Performance white paper, Part 2