The most essential part of winding and unwinding efficiency is tension control.

More and more consumers, brand owners and other stakeholders are now looking beyond the traditional three-arrow triangle "seal of approval" for...

Most converters understand the importance of roller alignment and related problems.
Published: December 31, 2004, By Elizabeth Part, AWA Alexander Watson Assoc.
---
Part 1 | Part 2 | Part 3 | Part 4 | Part 5 | Part 6
---
Under Pressure: Self Adhesive Laminates
Although the development of wide-format digital printing technology brought welcome growth and new application areas, the market for self-adhesive graphic arts materials is entering the mature phase of its lifecycle. This is putting pressure on coaters and laminators to work closely with other value chain players to become not just product-oriented but solutions-oriented providers in the face of an increasingly complex competitive base of non-adhesive technologies, from plasma screens to banners and direct flatbed ink jet print.
In Europe, self-adhesive vinyl—still the dominant material choice—represented around 35% of the printable media used in graphic arts applications. Major markets are point-of-purchase and advertising applications and exhibition graphics; vehicle, corporate, and architectural graphics; and traffic and safety signage. Annual growth rates are estimated at an overall 2%–3% for the medium term, with vehicle graphics advancing at 9% per annum and corporate and architectural graphics at 7%. In 2004 these two markets accounted for 17% and 14% of the total European self-adhesive graphic arts market, respectively.
Films and Their Use
Short-life monomeric calendered vinyl films still represent the bulk volume of self-adhesive graphic arts products, with 48% of the total, but these low-technology products today are a commodity. The industry's profitability lies in the higher-priced, higher-technology cast and polymeric calendered films.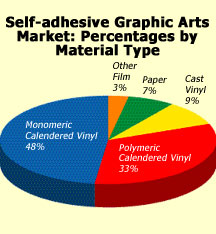 Cast vinyls offer the highest durability, the thinnest face films, the best dimensional stability, and the best conformability, but with just 10% of the overall self-adhesive vinyls market, they are niche products, primarily used for top-of-the-range corporate identity applications and vehicle graphics—especially over compound curved, riveted, and corrugated surfaces. Manufacturing costs are high, involving clean room conditions and expensive casting paper. Nevertheless, since production runs are comparatively low, these are the products that can be produced most effectively as custom color-matched films for company logos, for example.
Polymeric calendered vinyls—relatively new kids on the block—today are challenging cast vinyls in performance and are the fastest-growing materials in self-adhesive graphics, with a share of 33% of the total market today. They are arguably the most versatile products in the self-adhesive portfolio, with good durability, dimensional stability, and handling characteristics—and at a lower price than cast films. High-performance films are required in the road traffic signage market—particularly reflective grades. Growth in this sector depends on national and pan-European legislation, since most sign face materials are specified, and on opening up new economies such as those in the old Eastern Bloc countries.
Adhesive and Converting Technologies
With many applications for self-adhesive vinyls involving irregular, rough, and otherwise inhospitable substrates, often out of doors, solvent-based adhesives are the prevalent technology. Major coaters and laminators offer a range of special-purpose adhesives—for example ultra-removable, low-temperature performance, and permanent—plus characteristics that make for better, smoother application of the decals, including repositionability.
Converting technologies now span the original screen printing process, computer sign-cutting, and the broad raft of digital print processes, where wide- and super-wide-format ink jet finally have emerged the victors. Continuing growth in ink jet technology at 20% per annum is forecast: It is a real opportunity area for the self-adhesive graphics industry, and it is estimated it will represent close to 30% of the total self-adhesive graphics market in Europe within five years.
Market Status
Under the continuing pressure on margins caused by the long and complex value chain and the high cost of raw materials—particularly petrochemicals and resins—a degree of rationalization has taken place. This involves primarily the laminators, most of whom are global players, but pan-European distribution groups and print groups are emerging now, offering production at multiple locations in response to the demands of brand owners for high quality and consistency in their promotional graphics. Helping to fuel this highly competitive business environment is the increasing base of manufacturers of lower-cost digital printing presses, media, and inks in Asia—particularly China and Korea—which are exporting actively to the rest of the world.
---
---
Elizabeth Park has more than 20 years' experience in the coating and laminating industry and joined AWA Alexander Watson Assoc. as a senior consultant in 2004. A graduate in chemistry, she began her career with Smith & McLaurin (later James River Graphics and Rexam), initially as a senior chemist focusing on the development of imaging coatings, later moving into a succession of increasingly senior positions in general management. In 1997 she joined Avery Dennison Roll Materials Europe as senior product manager and subsequently was appointed to a number of key strategic posts, most recently as the division's director of business development and growth initiatives.
---
---
Part 1 | Part 2 | Part 3 | Part 4 | Part 5 | Part 6
---