Published: June 17, 2014
NEENAH, WI | Bemis Co. Inc. received two DuPont Awards for Packaging Innovation at DuPont's recognition celebration, held recently in Wilmington, DE. Bemis was presented a Silver Award for Technological Advancement for the Hillshire Brands Heat Fresh package and a Silver Award for Enhanced User Experience for the Fugini standup pouch for vegetables.
"We are honored to receive these prestigious DuPont awards," said William Jackson, VP and chief technology officer of Bemis Co. "These recognitions reflect our persistent focus on innovation, our technological expertise in material science, and our collaborative relationships with innovative customers like Hillshire and Fugini."
Microwavable Sandwich Pouch Keeps Bread Moist During Heating
The Hillshire Brands Heat Fresh package combines proprietary films and innovative features to control moisture, heat, and pressure during microwaving. This package solves the perpetual need in microwavable sandwich kits to keep the bread soft while heating the rest of the product. These innovations can be integrated into a wide range of heat-and-eat solutions.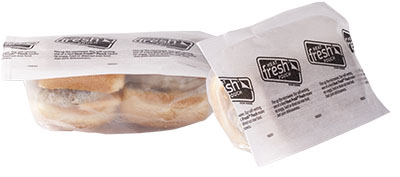 DuPont reports the Hillshire Brands Heat Fresh horizontal form-fill-seal package keeps bread soft and moist, while heating the rest of the sandwich evenly and thoroughly in the original package. Curwood combined two proprietary technologies in a unique way to optimally control moisture, heat, and pressure in the package during microwave heating. The package consists of a nonwoven film laminate with moisture-absorbing properties at the base and a nylon-based forming film with unique moisture control properties at the top. The two webs essentially create a moisture-equilibrating "steam dome" that allows for efficient use of steam while excess steam is absorbed.
During heating, moisture created by the heat cycle rises to the top of the package, rolls down the sides and is absorbed by the non-forming film, eliminating the problems of soggy or cardboard-like bread. At the same time, pressure is created within the package to drive heat into the sandwich core for controlled, even heating of meats, cheeses, and other sandwich components.
Standup Retort Pouch Transforms Latin American Food-Service Industry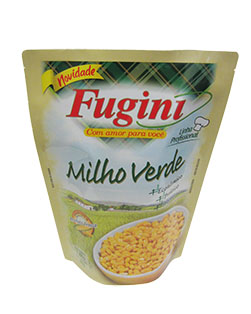 The Fugini standup pouch for vegetables uses Bemis' unique barrier films in South America to provide a light, strong, and flexible replacement for the former metal can packaging format. This sustainable packaging format not only helps deliver reduced logistics costs, as it weighs significantly less than bulkier metal cans, but also provides convenience at the foodservice and retail levels with its innovative features that make it easy to store, handle, and open.
DuPont reports the Fugini Vegetables standup pouch is the first commercial retort flexible packaging in the food service industry in Brazil. It offers great product protection, ensuring the same outstanding quality, while being simpler to handle, easier to open, and faster to heat. In an industry once dependent on rigid cans to maintain product quality, this flexible pouch represents a major shift to allow an increase in user convenience and safety.
RELATED ARTICLE