Published: May 16, 2014
WILMINGTON, DE | DuPont presented 16 awards recognizing packaging excellence at last night's 26th DuPont Awards for Packaging Innovation, the industry's longest-running, global, independently judged competition highlighting innovative packaging solutions and collaboration throughout the value chain.
This year, the program received nearly 200 entries from 31 countries, marking the second-highest number of entries and broadest reach in the program's 26-year history. This year, Unilever (United Kingdom) took the Diamond Award top honor for its line of compressed deodorants. The international panel of judges recognized Unilever for excellence in all three award criteria: Technological Advancement, Responsible Packaging, and Enhanced User Experience.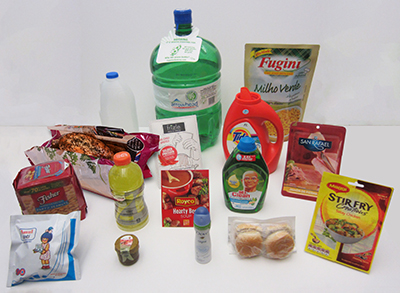 Unilever's new containers carry the same amount of product in a package half the size of the original. The smaller packages meet airline carry-on requirements, allow retailers to stock more products on the same shelf space and significantly cut transportation costs as more units fit on a pallet and into each truck.
In addition to the Diamond Award, the panel of independent judges selected five gold winners and 10 silver winners representing 11 countries. Gold Award recipients demonstrate excellence in any two of the criteria, while Silver Award recipients show excellence in any one of the criteria.
"The Packaging Awards continue to celebrate innovation and champion collaboration," said William J. Harvey, president, DuPont Packaging & Industrial Polymers. "We updated the award categories this year to reflect emerging trends and amplify the consumer's role in driving innovation."
Consumer convenience earned high marks in this year's competition. Seventy-five percent of the winning packaging solutions bring a higher degree of convenience to consumers.
For example, cardboard packaging from VerDeSoft, Germany, allows home cooks to prepare fresh pasta in three minutes by squeezing dough straight out of the package into a boiling pot. Ultra-high-temperature milk pouches from Parakh Agro Industries, India, keep milk fresh without refrigeration for up to 90 days and enable it to be consumed without first being boiled.
"DuPont Packaging Awards winners demonstrate the best of today's innovative packaging solutions," said Yasmin Siddiqi, DuPont Packaging Awards program leader. "Unique designs and advanced technology are used more and more creatively today to package products to enhance user experience and convenience."
Several winning entries used DuPont products, such as DuPont Bynel tie layer resin and DuPont Teijin Films.
Here are details on winning packages of particular interest to converters.
GOLD WINNERS
Cardboard Pouch Enables Fresh, Easy-Squeeze Pasta in Minutes (VerDeSoft – Packaging Design and Technology – Germany; Contributors: Frizle AG; ALB-GOLD Teigwaren GmbH; Martin Spiegel Kartonagenfabrik GmbH & Co. KG – Germany) Preparing and cooking fresh pasta in minutes is now possible with VerDeSoft's cardboard-dosing pouch filled with semi-fluid pasta dough. Consumers prepare the pasta by tearing the bottom label and squeezing the dough into a pot of boiling water. One to two minutes later, the fresh pasta can be served. Cardboard provides the stability needed to withstand the pressure of squeezing the pasta through the dosing cuts. An inner layer of film acts as a barrier and is sealed/welded to the pouch. This holistic approach of integrating the product and package creates a unique user experience enabling anyone to cook fresh pasta without creating a mess in the kitchen. Won for Technological Advancement and Enhanced User Experience

Separable Pouch for Multiple Marinades Simplifies Home Cooking (Amcor Flexibles – Huizhou, China and Singapore; Contributors: Nestlé Australia Limited – MAGGI Stir-fry Creations) Consumers can prepare home meals using two separate paste mixes at different points in preparation with Amcor Flexibles' plastic separable pouch. The package contains two separate pouches that are co-joined by an easy-tear dotted line. Made by a smart mold in the bagmaking machine, the technology advancement is the clean, simple separation of the two pouches. The packaging allows consumers to reduce the complexity of using many ingredients over a number of steps, but still create an authentic stir fry flavor. Amcor Flexibles' two-pouch solution drives brand differentiation and meets the consumer desire for a more adventurous cooking experience with an easy-to-use, simple, convenient packaging solution. Won for Technological Advancement and Enhanced User Experience

Film Pouch Brings Shelf-Stable Milk to India (Parakh Agro Industries, Ltd. – India; Contributor: Elecster – Finland and ISF Industries – India) For the first time in India, UHT (ultrahigh temperature processed) milk is now packed in a flexible pouch that has a shelf life of 90 days. Parakh Agro Industries' UHT milk pouch uses a five-layer EVOH-based film made with DuPont Bynel 4109 tie layer resin. No refrigeration is required until it is opened, and there is no need to boil the milk before it is consumed. The milk is sterilized at a high temperature and packed in aseptic conditions. Aseptic fill and processing in that region does the job of protecting the product. The cost of unit pack per liter is significantly lower than traditional aseptic packaging. The fact that this package does not require refrigeration also results in cost savings. The Elecster (Finland) UHT Milk technology enhances user experience by providing milk to a large population that would otherwise not have access to it. Additionally, the longer shelf life provides an advantage to consumers in India who do not have refrigeration. Won for Responsible Packaging and Enhanced User Experience
DuPont Packaging & Industrial Polymers manufactures an extensive mix of adhesive, barrier, peelable lidding and sealant resins and provides a globally networked development team to work with customers on packaging programs that help protect the product, environment, improve shelf appeal, convenience and reduce cost in the food, cosmetics, medical products and other consumer goods and industrial packaging industries.