Published: February 29, 2016, By Stephanie Millman
One story my grandfather told me that had the biggest impact on my life was about a very strong lumberjack who initially had exceptional results felling trees but then consistently experienced decreasing productivity results as the workdays went on. Though he worked harder and harder, he couldn't catch up. When his boss finally talked to him, he asked about the last time he had sharpened his axe. The lumberjack said, "I don't have time to sharpen my axe, I'm too busy cutting trees!"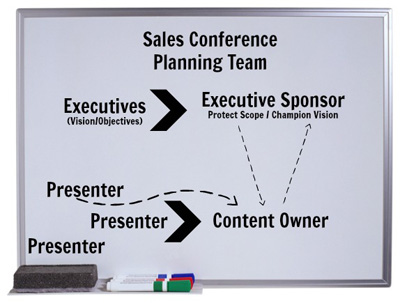 Gathering your sales teams together for a sales meeting/conference to "sharpen their axe" and work on productivity skills is a great method to enable salespeople to achieve their revenue targets. As outlined in Part I of this Sales Conference blog post, if your conference is aligned with measurable objectives and staffed with the proper support, it's an excellent investment for the company.
To preserve the value of this investment, keep a close eye on the content. There are so many landmines, mishaps, and inconsistencies that show up in the presentation material that can leave the audience (sales, service, and staff members) feeling confused. This extra effort is well worth it when you consider that the sales team is already feeling that they are behind in their work–the last thing you want are complaints that their time has been wasted. Here are some steps to make sure the conference is a good investment for everyone involved. . .
Assign a content owner and provide that person with authority to take action (escalate issues to leadership, ask presenters for more or different content/details, etc.).
Get the right person. This person will aggregate all presentations and must have a clear understanding of the topics being presented as well as what the content is asking the audience to do. Clearly define to everyone involved the expectations, timing, and rewards/consequences if things get off-track. Make sure to ease up on their normal workload to allow for the extra responsibility.

Empower them. Enable the content owner to be able to push back on incomplete and weak content. Never allow a presenter to spray the audience with data, forcing them to make sense of it. I've seen this so many times with product specialists presenting every single feature of a product but failing to connect the market approach, the benefits per industry compared to different competitors and/or the strategy for service, end-of-life, and product replacement. A quick example: If a product is faster than the competitor, the presenter needs to establish WHY speed is a benefit to customers and HOW to best position the product in a sales scenario.

Give them resources. Arm the content owner with tools and resources (see below in "templates") to enable presenters to communicate more effectively. Encourage them to push for variation in presentation methods as very few people enjoy spending a whole day in front of PowerPoint slide presentations. Get your content owner on board with recommending different ways for the presenters to communicate their topics.
Outline, organize and be clear on your content expectations and then communicate it way ahead of time!
Create templates (PowerPoint, Excel, Word), taglines and images (logos, borders, etc.) that can be used to support the vision or theme of the meeting/conference. Deliver them to each presenter early. Have them read my blog on, "PowerPoint is NOT a Presentation!" to encourage them to find more ways than one to get their point across.
Provide clear guidance on what the message of their content will be, including what you want your presenters to ask the salespeople to do (call-to-action). If, for example, you have asked your CFO to present the finances, ask them specifically to make sense of the numbers in a way the salespeople could take action based on what is being said. Don't expect them to make sense of the numbers. Give them knowledge, not just data!

Provide strict deadlines for draft content, rework, and images and stick to them! With so many things loaded on our plate these days, adding a presentation is something that could easily fall lower in priority and be pushed to finish in the final hour. But if your presenters can get outlines back to your conference content owner early, there is time to get the flow of information working correctly, eliminate duplications, and inconsistencies and then provide guidance to the presenters that will make it much easier on them to make a strong impact.

Review content constructively. Look through the content and visualize sitting in front of it as if it were sandwiched between other presentations that are being delivered. Will your team get inspired? Will your team learn a new tip that will help them increase revenue? Does the content align with the scope of the conference and add value to the audience's job?
Remember to start by establishing a vision, expected outcome, theme, and outline to drive your content and then stick to the scope. Often ancillary parties with personal agendas jump in to give a presentation. It is polite to allow them; however, think about the individuals in the room. Is it necessary for this presenter to take their time? Could their message be handled in an e-mail or conference call?
As the leader of the sales conference, you are the champion and it's your responsibly to make sure your team is getting the most of their time away from their daily job. Empower the right person as a content owner and continue to promote and drive the right behavior to prepare the conference and it will be well worth everyone's time. What you will find is that in the process, you will get your own "axe sharpened"!