Published: December 31, 2004, By Robert Marsh, Contributing Editor
---
Part 1 | Part 2 | Part 3 | Part 4 | Part 5 | Part 6
---
To view this special report as a PDF, click the link below:
---
A Bright Future
Applied Films Corp. deals with its future with a metallizer that produces ultra-thin capacitors for hybrid cars and a new machine that features three sputtering chambers.
AET Films has introduced an upgraded polypropylene film that offers improved bonding characteristics and is moving into the hologram market.
Vacumet Corp. has moved into its new, 80,000-sq-ft plant in Austel, GA, to meet present, as well as future, demand for its metallized films.
In what is believed to be a technological first, Proma Technologies introduces a monochromatic hologram.
The future looks good for the metallizing industry, as the above sampling indicates, in spite of the fighting in Iraq and Afghanistan, threats of terrorist attacks, the ups and down of crude oil pricing, and a weak dollar.
Liz Josephson, manager of system sales at Applied Films, anticipates future growth in such markets as capacitors for hybrid cars and a new vacuum web coater with one to six deposition chambers.
As she says, "Toyota's Prius II hybrid cars use capacitors that can be produced on our MultiMet machine. They need thin film capacitors, and our machines metallize three-micron thick polypropylene for capacitors with patterning capabilities for this application." Some market observers see nearly one million hybrid cars on the market by 2007.
In addition to machines that make capacitors for hybrid cars, Applied has introduced a new vacuum web coater that features multiprocess capabilities for the production of flexible printed circuit boards and other products.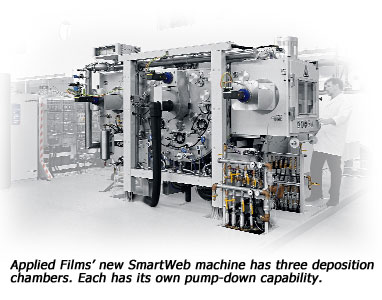 "Our standard SmartWeb machine," Liz says, "has three deposition chambers. Each chamber can handle a variety of deposition tools, such as a planar magnetron, a rotatable magnetron, or an evaporator for metals. Each winding chamber has its own pump-down capability and so does each deposition chamber. This allows you to have different pressures from chamber to chamber.
"Very different layers can be deposited in each of the three chambers," she says. "The separation between those chambers is so good, you can have an oxygen process next to a process that would be poisoned by oxygen. Not only that, the Smart Web's footprint is small enough that it can fit into standard clean rooms."
SmartWeb machines are available in widths of 400 and 800 millimeters.
Aluminum Replacement and R&D
Bob Korowicki, president of Vacumet Corp., sees the metallized polyester film business continuing to grow domestically "at about two to three percent a year; not as much as it used to. Keep in mind, metallizing is now a pretty big business. Total poundage has increased, especially over the last two to three years, and growth of two to three percent translates into a lot of pounds of metallized plastic film. We have not seen many new applications developed over the past few years, just growth of existing products."
While aluminum replacement continues to offer opportunities for growth, "R&D work is not as robust as it used to be," says Korowicki. He cites the lack of attention to product development at both the end-user and supplier levels due to cost reductions, as related to personnel. "Everyone is wearing multiple hats," he says, "and there isn't a lot of attention dedicated to product development."
Vacumet's plastics division is creating its metallizing future with the addition of two new plants. It has moved out of the Atlanta facility into a new 80,000 sq.ft. plant in Austel, GA, in addition to the plant it opened last September in East Hartford, CT.
"We plan to be fully operational (at Austel) by the middle of March," says Korowicki. "Several pieces of equipment were relocated from our Atlanta facility, adding to our new Galileo 130-inch metallizer and 130-inch slitter. We provided space beside the new Galileo equipment for the installation of sister machines in the not-so-distant future."
In September 2004, Vacumet opened its East Hartford, CT, facility, "which is in addition to our existing plant in South Windsor, CT," Korowicki says. "The addition of those two plants—Austel and East Hartford—will increase our current metallizing capacity over 12 million pounds a year."
The metallized paper division of Vacumet also continues to grow "at a nice percentage," says Korowicki. "This is where the R&D really counts; by identifying new applications and creating products to meet those new opportunities.
"We recognized ten years ago that metallizing plastic films had become a service business. Anybody can buy the substrate. Metallizing of plastic film is a service of application. We went into paper metallizing because we found an opportunity to create products that were unique, not only by the paper that we bought, but by the chemistry we put either under or over the metal. With this new technology in hand, we created a third division, the Specialty Coating Division, to provide our customers the capability of developing coatings for paper as well as plastic films. Now, we create unique products, not just supply service."
A New Hologram
Frank Sereno, president of Proma Technologies, is bullish about his company's future. "We plan to double the size of our holographic business," he says. "In today's super-busy world, consumer products companies are looking to the supply chain for increased value. And we are geared up to manage their holographic requirements from graphic design to the delivery of the finished product."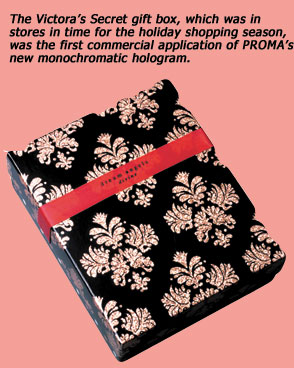 For the Democratic National Convention in Boston last July, Proma teamed up with Globe Ticket to provide holographic passes to the convention. Proma's HoloSECURE holographic paper provided the sophisticated security features the passes required.
And when the Hol New Hampshire Intl. Speedway needed secure admission and parking passes, HoloSECURE again helped produce them. Each ticket had a different design, such as one for vendors, one for viewers, one for the press, and so forth. They were coded with sequential numbering. These foolproof passes also could be affixed to the windshields. If someone attempted to remove one, it would be destroyed.
As to new markets, Sereno says, "we anticipate the development of new business with the introduction of our monochromatic hologram, which we believe is a technological first."
It is a single-color hologram that traps light and reflects it without introducing the yellows, blues, and greens of conventional holograms that can alter the original color of the printing ink. According to Sereno, "If you think of an artist's palette of colors, we are now giving the creative people a new one that has the depth of HoloPRISM without the light-splitting effect. It gives you the depth without the distraction."
The Victora's Secret gift box, which was in stores in time for the holiday shopping season, was the first commercial application of the new monochromatic hologram. "They chose it," Sereno says, "because it reflects the true color of their box with depth and subtlety."
At AET Films, Bill Minnich, market manager, sees a solid future for packaging substrates "that can replace metallized polyester and aluminum foil," he says, "in the high-barrier food packaging applications. Barrier, as a property in packaging, is essential in today's world of single serve and other packaged goods that require longer shelf life while maintaining freshness." AET Films recently introduced a product to meet this need: MPF-2, a metallized, non-sealable biaxially oriented polypropylene film that, according to Minnich, offers excellent moisture and oxygen barrier. MPF-2 is designed for primerless adhesion in extruded polyethylene or Surlyn (DuPont) laminations. "We've launched it," Minnich says, "in 55 gauge and may introduce other thicknesses down the road depending on market demand." Minnich is aiming his new film at the snack foods, bakery, pet food, and similar markets.
AET also sees steady growth for its MIRAGE embossed, metallized holographic films, which, says Bill Swain, marketing and training manager, "are being used for aerosol labels, flexible packaging, gift wrap, point of purchase displays, and boxboard laminations. We are able to provide these films for wide web applications up to 63 inches wide.
"The driving force behind holography," Swain says, "is that brand managers need greater shelf appeal for their products. MIRAGE holographic films add an additional eye-appealing appearance to the package that brand mangers want to differentiate their products." AET offers some patterns without shim lines with their wide web, high speed equipment "that helps overcome some of the price barrier historically associated with using this highly effective promotional tool," says Swain.
---
---
Part 1 | Part 2 | Part 3 | Part 4 | Part 5 | Part 6
---