Published: July 31, 2007, By Edited by Claudia Hine, Managing Editor
August Web Exclusive
One of Spain's leading label converters, Germark SA, is now in its second generation of Cid family management. Founded by German Cid in 1958, today the company is run by his son, managing director Iban Cid, a former FINAT president.
The Cid family has maintained a policy of investment in the latest technology and has collaborated with Martin Automatic over a period of time to boost productivity with automated unwind and rewind units on its new 16-in. (410 mm) Omet press and most recently with retrofits to an older 16-in. MPS line. The company's production facility also includes printing presses from Gallus, Nilpeter, and Kopack.
With Germark's focus on premium labels for international brand leaders such as Nestlé, Kronenbourg, L'Oréal, and Unilever, consistent quality is essential, so the company began to investigate ways of taking as many variables out of the production process as possible. To justify the case for investment in automated roll changing, Germark also needed to consider the return on investment (ROI).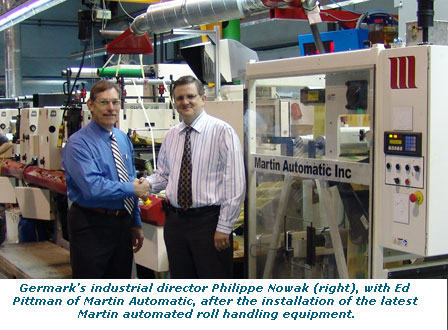 Improvements in Performance and Quality
The fitting of a Martin Automatic MBS butt splicer unwind and LRD automatic transfer rewind on the Omet line pointed the way forward for Germark, and the latest addition of Martin MPS butt splicer film unwind and LRD units on one of the MPS lines not only has reduced costs but improved overall quality, too.
Philippe Nowak, industrial director at Germark, says, "We were pleased with the improvement in performance that the Martin equipment made to our older Omet line so knew there was a solid base on which to prove the case for further investment." When MPS was chosen as the preferred supplier in 2003, it was on the grounds of servo drive technology and the benefits it brought. A second MPS flexo/screen press was added in 2005, bringing color combinations on the two presses to nine and ten respectively.
The investment plan for the latest Martin equipment also included the installation of a Matho waste extraction system and moving the MPS line to accommodate the new production layout. According to Nowak, this gives a potential ROI figure of 2.5 yr overall, but with the Matho and press move costs deducted, a return of about 1.5 yr for the Martin units seems likely.
More Splices, Less Waste
At Germark, Nowak is already noticing a net production speed increase in the region of 15%, which means more splices, less waste, and an even shorter payback period. This falls in line with the company's drive to reduce waste and make its production flow more logical. The aim is to close-up the production processes to reduce error and increase the responsibility of the production teams. "Our aim," says Nowak, "is to add quality that will allow us to retain high value business."
Clearly the policy is working. From humble beginnings, Germark has grown to employ 130 in its 5,500-sq-m factory and generates an annual turnover in excess of €15m. The company maintains sales offices in Bilbao, Madrid, Malaga, and Valencia, from where it also supplies and services its range of label application and coding systems.
Independent acknowledgement of performance came in 1998 in the shape of ISO 9002 Certified Quality Assurance and again in 2001 with ISO 14000 Certified Environmental Management System. That's the same year in which the company entered the Guinness Book of Records by producing the world's largest label at 100 x 29 cm.
Looking ahead, Germark sees a growth in demand for filmic substrate products, such as shrink sleeves, and an increase in specialization to meet the continued downward pressure on prices. As Nowak says, "We can no longer afford to be all things to all people—our investment policy is focused on the higher-value end of the market, where efficiency is everything."
---
---
CONVERTER INFO:
Germark
Avda. La Fama 50
08940 Cornella
Barcelona, Spain
+34 93 4751400; germark.com
SUPPLIER INFO:
Martin Automatic—martinautomatic.com
Omet—omet.it
MPS Systems—mps4u.com
Gallus Inc.—gallus.org
Nilpeter—nilpeter.com
Ko-Pack Intl.—ko-pack.com
Matho—matho.com
---