Published: February 01, 2017
ZHUHAI, CHINA | Maxcess, a global supplier of products and services for web handling applications, reports the expansion of its Maxcess China Division, opening a new facility in Zhuhai.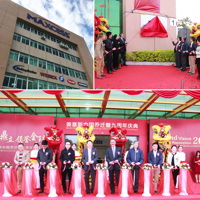 "Maxcess China began operation more than nine years ago," says Nang Young, general manager for Maxcess China. "During that time we have increased production, requiring a new state-of-the-art facility to manufacture products from our brands of Webex, Fife, Tidland, and MAGPOWR."
Featuring almost triple the square footage from the previous building and 50% more key equipment than the old location had during the past five years, the new facility offers room to expand with the booming business, company says.
"Maxcess China has continued to grow year over year," says Maxcess CEO Greg Jehlik. "This expansion is a stair-step investment as we take the business to the next level."
This email address is being protected from spambots. You need JavaScript enabled to view it.