Published: December 29, 2016
MONTGOMERY, PA | Foster, a supplier of cutting devices and other postpress equipment, reports the immediate availability of the On-a-Roll Lifter Spinner, the latest in the company's line of material handling equipment.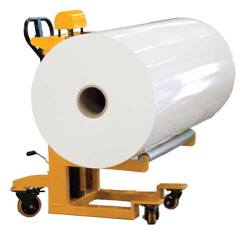 Designed specifically for use by converters, package printers, and label manufacturers, the Spinner lifter enables a single operator to safely and easily load rolls, company says. The two roller shafts allow the operator to spin the roll into the proper position for a production run. For roll unloading, the roll is spun in the opposite direction to break the friction lock.
Says Foster CEO Ted Borowsky, "Media rolls are bigger and heavier as mills and converters seek to make their production workflow more efficient. These larger rolls are heavy and unwieldy for operators and warehouse personnel to handle. Our new On-a-Roll Lifter Spinner can accommodate rolls as wide as 61 inches [1,500 mm], with diameters as great as 24 inches [610 mm]. With it, a single operator can safely manipulate media rolls in shops with limited floor space and can quickly and single-handedly position fresh rolls for quick and easy mounting and unloading."
This email address is being protected from spambots. You need JavaScript enabled to view it.