Published: March 01, 2007, By Edited by Deborah Donberg, Associate Managing Editor
Material Handling
Material handlers at Packaging Dynamics' Wisconsin operations, located in De Pere and Kaukauna, say they are enjoying higher morale, better productivity, and reduced injuries since adding innovative equipment from Appleton Mfg. to their operations.

The company's Thilmany Papers mills in De Pere and Kaukauna and its International Converter plant in Kaukauna provide innovative specialty papers and packaging solutions for customers around the world, including pressure-sensitive papers that become the backing for airline baggage tags; label backing or tape backings for consumer and hygiene products; lightweight papers that become quick service restaurant packaging, microwave popcorn packaging, or surgical drape; converted products that package foods such as potato chips and biscuits; and products for industrial applications such as steel interleaving tissue, paper ream wrap, and insulation facing.

In the past, employees in these facilities relied on a roll-moving system that consisted of overhead pneumatic hosing that operators would tug and pull manually to move a roll of paper successfully. The complex system of hosing was not only clumsy and time-consuming, but it also created trip and tangle hazards, says Bill Sotka, who oversees logistics for both the De Pere and Kaukauna facilities.
Creative Thinking
Starting in December 2003, material handling and maintenance crews at De Pere dabbled with the concept of creating a hand-held mechanism that would move rolls of paper and reduce the physical exertion and safety risks of the job. With the De Pere facility's objectives in mind, the product development team at Appleton Mfg. met internally to assess the scope of the project. Because the firm typically designs large-scale equipment, such as automated core-cutting systems, they knew they needed to think creatively to design a small device that had the power to move very heavy objects.

One major challenge was determining what type of power source would have enough torque to push a roll of paper without adding weight over the existing models. In addition, the unit needed to be stand-alone and easy to maneuver between rolls of paper.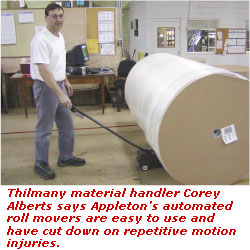 Eventually, Appleton machinists built a prototype roll mover powered by an electric motor and rechargeable battery pack. They tested the unit internally to work out a few minor kinks, then sent it to the Thilmany Papers De Pere mill for a trial. The prototype was sent back to Appleton with a few suggestions from the crew at De Pere, and then the first production unit was manufactured and delivered to the facility.

Jack Miron, a De Pere material handler, admits, "We were very skeptical at first. Even though we thought the roll-mover could be built, when we first saw it, we weren't too certain how it would work. But when we put it to the test, we were pleasantly surprised at how well it worked. It's been great."
Transferring Success
The lightweight, battery-operated, hand-held roll mover basically looks like a small vacuum cleaner and is said to offer the same maneuverability. According to De Pere material handler Corey Alberts, "These automated roll movers are not only easy to use, but they have worked out great ergonomically. We don't have as high a risk of repetitive motion injuries from pushing one- to three-ton rolls of paper manually all day."

After receiving the final roll mover in De Pere last fall and seeing its early successes, Sotka transferred the prototype roll mover to Thilmany's Kaukauna, WI, facility material handling area for crews to test. The roll movers were just as popular there, and Sotka initially ordered four additional movers, two for each facility. Since then, converting area management has ordered more units.

"Our crews love them," says Jeff Menzel, plant manager for International Converter's Kaukauna plant. "They're safer and easy to handle in tight spaces in our work environment."

Currently the roll movers are used to maneuver approximately 300 rolls each day in Kaukauna and 260 in De Pere. With that volume of rolls and the ability to push them in an automated fashion, the De Pere facility already is experiencing a decline in the number of muscle strains and knee injuries common to the material handling area, Sotka reports. In fact, since the roll movers arrived, there have been virtually no strains or injuries reported.

"We're proud of this effort because it involved so many people, from material handling to maintenance to the folks at Appleton Manufacturing, who shared their ideas, all in the interest of bettering the work environment," says Sotka. "…The benefits, when you think about ergonomics and employee safety, have been invaluable for us."
More Innovation, Less Work
Another innovation at Thilmany Papers' De Pere facility also came from suggestions of operators who were looking for less labor-intensive systems to remove unused paper from rolls and pull shafts out from wound rolls of paper.

After a roll of paper was wound to the length ordered by the customer, operators would manually cut and pry off the excess paper left on the core. This task, which typically required one to two people and several minutes to complete, increased the risk for lacerations and muscle strains.

With input from Thilmany, Appleton developed a slabbing saw that cuts the excess paper, also called "broke," horizontally on the roll. The device then grips and tears the majority of the paper completely off the roll. The broke remaining on the roll is removed by hand quickly, with the entire process taking less than a minute to complete. From there, the broke is placed on a conveyor and sent to the dry-end pulper for reuse.

When it comes time to remove the shaft from the finished roll of paper, the De Pere facility's new shaft extraction system does it with another innovation from Appleton. Previously, according to operators, the two-person task of removing a 500-lb shaft was physically exhausting and time-consuming. "Our muscles would actually be sore at the end of shift," says rewinder operator Scott Vandenhoven. "Now, we can change sets of rolls quickly and comfortably. It's been a welcome change."

The system removes the shaft from the wound roll of paper automatically, recores the shaft, and then returns the shaft to the winder ready stand. The task now can be completed by one operator and requires much less physical effort.

Pam Pelishek, process manager in material handling, says both innovations are the result of solid relationships. "While I appreciate the improvements we've made ergonomically and in productivity, these ideas would have never come to completion without the vision of our operators and the willingness of the folks at Appleton to partner with us."
---
---
CONVERTER INFO:
International Converter
(includes former Thilmany Packaging business)
600 Thilmany Rd., Kaukauna, WI 54130
920/766-4611; thilmany.com or ici-laminating.com
SUPPLIER INFO:
Appleton Mfg.—PFFC-ASAP 340. appletonmfg.com
---