Published: January 01, 2007, By Edited by Claudia Hine Managing Editor
Digital Printing
Model Graphics and Media has installed an HP Indigo press ws4050 for short to medium runs of high quality, full-color labels. It allows the 39-employee firm to capture applications ranging from St. Patrick's Day lapel badges for a local Irish pub to vibrant brand-assured labels for a leading consumer products company.
Founded in 1984 with a single three-color press, Model Graphics today operates a 35,000-sq-ft facility with five conventional presses and an in-house art and prepress department. The addition of the HP Indigo press not only simplified full-color personalization for labels and flexible packaging but also allowed incoming jobs to be analyzed to see whether they should be produced digitally or conventionally.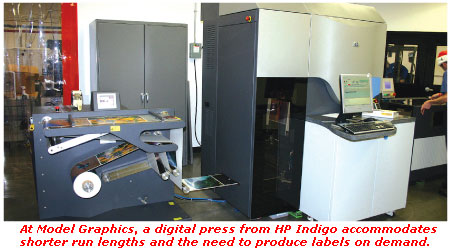 According to Model Graphics owner Steve Fleissner, the company's digital capabilities have proved an extra selling advantage in a region known for its large number of label producers. "In the flexo business, we compete with other businesses in town, but digital gives us a unique difference," he says. "One of our customers said this is what they've been looking for all along. Another was so impressed by the quality they decided not to go back to flexo and want us to produce all their labels on the HP Indigo."
Accurate Color Reproduction
The press's color consistency, substrate flexibility, and variable data printing capabilities are applied to a wide variety of projects for customers including Kutol, a provider of private-label anti-bacterial hand cleaners, and Candle-Lite, a scented candle manufacturer. Recently, the digital press also helped Model Graphics win a bid for infant-care soap labels by accurately reproducing the product's unique colors on the first go-round.
"The sales reps handling the account were amazed at how well the specialized colors came together on this press," Fleissner explains. "The easy setup, variable data, and high quality graphics let us plug in a design, and everything comes out the way it should, without our having to tweak it. If we did this on a flexo press, I guarantee we'd still be here today trying to make it work." Model Graphics also is using the HP Indigo press to make inroads into such profitable new opportunities as special-events coffee packaging for regional hotels and personalized photo-quality labels for the wedding planning business, both areas with potential for future growth.
"Our hope is that when a hundred prototypes are needed to show to a test market, we'll be the company providing that service," says Fleissner, noting that an in-house Valentine's Day promotion created to highlight the press's extraordinary range flew out of the shop. "We had a lot of fun with this promotion and finished them in a variety of ways, including using lamination, gold-foil stamps, and even 'scratch and sniff' colors. We've done promotions in the past and still have boxes of the stuff. This time, we had a shortage—we didn't print enough!"
Editor's Note: For more on Model Graphics, see PFFC October 2006 "Experience Speaks" p160.
---
---
CONVERTER INFO:
Model Graphics & Media
2614 Crescentville Rd.
West Chester, OH 45069
513/541-2355; modelgraphicsinc.com
SUPPLIER INFO:
HP—PFFC-ASAP 301. hp.com
---