Published: November 01, 2006, By Yolanda Simonsis, Associate Publisher/Editor
TLMI Awards
This year's Tag & Label Mfrs. Inst. (TLMI) annual label competition yields winners in a multitude of categories employing nearly as many processes. Announced October 10 at the TLMI annual meeting held this year at the JW Marriott Grande Lakes in Orlando, FL, the competitors once again prove there are many ways to print a winning label.

Despite the difficulties posed by industry consolidation, slimmer profit margins, and higher cost of materials, this year's 51 challengers "pressed on" to produce a total of 90 winners, including one Best of Show, 48 first place awards, 28 second places, 12 honorable mentions, and one innovator award.

This year's awards competition committee roster took on the difficult task of judging each of 239 North American entries and 39 international entries. The panel included the following experts: chair Steve Lee, VP, RotoMetrics; Mike Buystedt, director of business development, XSYS Print Solutions; J. Page Crouch, professor, Clemson Univ.; Patrick Hague, VP-sales, Water Ink Technologies; Ray Mackure, technical marketing manager, Avery Dennison, Fasson Roll North America; Peter Mulheran, president, Siegwerk Ink Packaging; Dilip Shah, Nilpeter USA; Robert Smithson, CEO, Trinity Graphic USA. Featured here is a representative selection of winners that accrued first place plus two or more additional awards.
---
---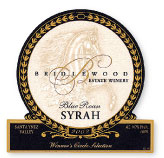 Best of Show—Unbridled Success
G-3 Enterprises; Bridlewood-Blue Roan Syrah Winning both Best of Show and first place awards, G-3 Enterprises converted the Bridlewood–Blue Roan Syrah label in the category of Wine and Spirits-Flexography/Letterpress (line and screen/tone–prime). The most difficult challenge here was that of uncoated stock. A G-3 Enterprises spokesperson explains, "We had to keep a fairly heavy laydown of black without closing in the fine type." Using a 200-line screen, the label was printed rotary screen with an O/A coating at 250 fpm. Suppliers include press manufacturer Gallus (an EM280 press); 3M sticky back; I.KELA stamp dies; DuPont Cyrel plates; Sericol inks; Wilson cut dies; Trinity photopolymer emboss; Harper anilox rolls; and a RotoMetrics plate.
---
---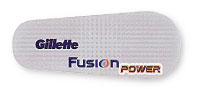 Razor Sharp
Dow Industries earned a total of five awards, with the Dover organizer base label representing one among three of its first place winners. Categorized as Multi-Process (non-prime), the challenge of this label, which is applied to the base organizer tray for the Gillette Fusion Power Razor, was the thickness of the material needed for application. Entry comments indicate this made print-to-emboss registration difficult. The job was printed four colors HDUV flexo, embossed plus varnish, and ran at 200 fpm. Suppliers include RotoMetrics die and embossing tools, DuPont Cyrel plates, and Harper anilox rolls.

Graphics with a Flare
Solaris Reserve 2000 Cabernet Sauvignon by Beaulieu Vineyards eclipsed its competition in the category for Wine and Spirits—Offset (line and screen/tone–prime). TAPP Technologies captures first place, running at a speed of 55 fpm for this five-color job with tight registration between both spot UV varnish and ink while employing both emboss and combination dies. The UV waterless offset printing process was performed in a single pass, which included an aqueous coating, rotary die-cutting, foil stamping, and embossing. Printed four across the web with a spot varnish, the solar flare utilized a 300-line screen. Suppliers include RotoMetrics dies and Fasson matte litho label stock.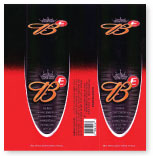 Energizer Beer
In the category of Roll to Roll (line and screen/tone–prime), Anheuser Busch BE (pronounced "B to the E") introduces an energized drink in the Budweiser line extension, containing caffeine, guarana, and ginseng. Multi-Color Corp. had the pleasure of accepting a first place award for its role in introducing the beer label across the country. Special vignettes, says a company spokesperson, were very tough. Light and dark gold metallics accompanied pixilated vignettes in nine colors with two whites and dark bold black. Rotogravure cylinders were laser exposed and chemically etched to allow for bold metallics and opacity that the brand required with a 200-line screen.

Dietary Supplement
Roex L-Lysine and L-Proline vegetable capsules are dietary supplements garnering a first place award for Coast Label Co. in the category of Flexography (line and screen/tone–prime). With critical registration required in the molecular circle artwork, the job ran at 175 fpm, employing RotoMetrics dies, Environmental Inks, and Technicote label stock.
Tastefully Stylish
Household goods never looked so good in the Plateless Printing category (household goods) with Tailored Label Products' digitally produced, four-color process Cambria label for the packaging of natural quartz surfaces. Challenges were presented in printing details of wood cabinets, quartz surfaces, and flowers while maintaining the lines of the wine bottles. Supplier data is proprietary.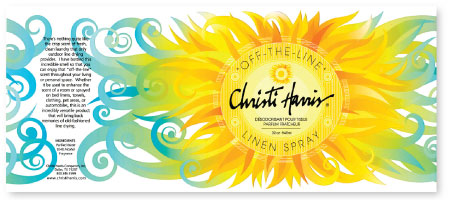 Fresh Linen
McDowell Label & Screen Printing deserved a first place in the Multi-Process (color process–prime) category for its production of Christi Harris 32-oz Linen Spray. Produced by HDUV, the graphics were printed with screen white, spot white, spot black, screen doming, and a round-corner rectangle die. Entry comments note the special challenges for this label included very tight registration, the ability to create smooth vignettes of process color, plus a tactile effect for the brand name and product description. Suppliers include Ritrama stock, Wilson dies, XSYS Inks, and RotoMetrics cylinders.
More Peanutty Good
Not to be outdone, international winners also collected their fair share of awards. KimBell's pack won first place in the Letterpress (rotary color process–prime) category for Ehje's Peanut Butter Plain in the 225-g size. The label was printed six rotary UV colors and die-cut on a first machine; two flatbed UV screen prints followed on a second machine. A third machine applies UV overcoat varnish and removes waste matrix. Siegwerk supplies UV letterpress and silk screen inks.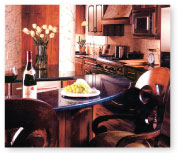 Elegantly Simple
Collotype Labels Intl. Holdings is honored with a first place award for its production of Sockeye Pinot Noir wine labels in the category of Wine and Spirits—Offset (color process–prime). This is considered a favorite wine to accompany a Sockeye salmon entrée. Elegantly simple label graphics are printed in six UV offset colors with hot foil stamping and single-pass embossing. Printed at 45 fpm on uncoated stock using 175-line screens. Suppliers include Avery Dennison label stock and XSYS Inks.
Distilled to Perfection
Not unlike the award-winning Glenfiddich Solera Reserve Single Malt Scotch Whiskey itself, international TLMI member Labelgraphics (Glasgow) is honored with a first place award in the Wine & Spirits—Flexography/Letterpress category (line and screen/tone–prime). Challenges included printing seven colors UV flexo on silver foil substrate using 250- to 650-line anilox rollers with the addition of rotary in-line embossing and a matte varnish. Suppliers include DuPont Cyrel photopolymer plates, Fasson silver foil, and a Gerhardt flexible cutter.
---
---
Additional First Place Winners
Nosco: OptiFree RepliniSH Instant Redeemable Coupon
Copac: GNC Papaya Complete
Label Technology: John Frida Frizz Ease
DRG Technologies: Craftsman
Corporate Express: Warning Label
Banta Specialty Converting: Craftsman Intek 7.00 hp
Valley Forge Tape & Label Co.: Pond Care Spring & Autumn Premium Pellet
Dow Industries: Time Out Label
Dow Industries: Ken's Cocktail Sauce
TAPP Technologies: Old Telegraph Backs by Bonny Doon
Multi-Color Corp.: Miller Genuine Draft
Multi-Color Corp.: Method High Efficiency Laundry Detergent
Multi-Color Corp.: Olay Body Wash Ribbons—Jojoba Butter
Multi-Color Corp.: P&G Tide with Febreeze Freshness
Multi-Color Corp.: Arizona Black Tea
Fort Dearborn Co.: Sunlight Multi-Action he Laundry Detergent
Renaissance Mark: Heinz It Up Ketchup
Label Art: Verve Pinot Noir
G-3 Enterprises: Napa Ridge—Coastal Vines Pinot Noir
G-3 Enterprises: Luna—2004 Cabernet Sauvingon
Mid Atlantic Label: Target Cold/Fl 10 oz.
Spear: Don Q Cristal
Syracuse Label Co.: Chromax
Prestige Label Co.: William Poll Cucumber Dip 8 oz.
McDowell Label & Screen Printing: Times Ten Cellars Cabernet
Spectrum Label Corp.: Saveur-Ginger Wasabi 'n Beer Marinade
Spectrol: Sortilège 750 ml
Spectrol: Selection Châtenois
Avery Dennison—Business Media Div.l: SoftBrand
---