Published: November 30, 2003, By Edward Boyle, Contributing Editor
One of two corporate logos of Associated Labels, a Vancouver-area label converter, is a three-dimensional triangle comprised of the words "people," "ethics," and "quality." The reason is as simple as the design itself: Company president Rusty Ashworth firmly believes the ancient symbol of strength represents the foundation of the company.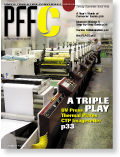 "Without one side, the triangle is not complete," explains Ashworth, who has owned the company since 1981. "If you don't have the right people, you don't have quality. If you don't have ethics, you don't have quality. It all works together. That really says a lot about our approach to business and our dedication to the customer, and it really makes [our customers] comfortable working with us."
Of course, it doesn't hurt that Associated Label also operates state-of-the-art equipment in both the production area and its 12-person prepress department. In fact, the near-simultaneous installation in spring 2003 of a Mark Andy LP3000 ultraviolet flexo press, a Creo ThermoFlex flexographic computer-to-plate imagesetter, and a DuPont Cyrel FAST platemaking system has solidified Associated's position as one of Western Canada's largest label converting operations.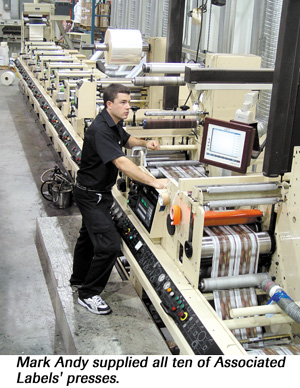 "I think the whole package we put together this year — with the Mark Andy LP3000 and the Creo and the DuPont systems — has given us a launching pad for the future. They all talk the same language, they're all working for the same goal, and we're very proud of our installation and what we've done because it puts us at the next level.">
Ashworth says he went to last year's Labelexpo Americas trade show fully intent on buying a 16-in., eight-color Mark Andy 2200 press to complement an existing 4150 press, which served as Associated's entrée into the unsupported film market two years ago. After previewing the LP3000, he agreed to purchase the first production model, just as he had with the Mark Andy 7-in. 2200 14 years earlier.
"We wanted an avenue to get more value-added," Ashworth explains of the 4150 purchase, "and value-added is having the capability to print on a variety of unsupported films, foils, and pressure-sensitive materials. We bought the 17-in. LP3000 because we wanted to complement our 4150 and have the LP3000 take over the volume of pressure-sensitive work from the 4150 so we could focus on producing film wrappers for candy bars, chocolates, and other food items."
The LP3000 press, which was installed in March 2003, already runs three shifts, five days a week. "It's working out just the way we thought it would," explains Ashworth.
Trying Something New
The LP3000, Associated's tenth Mark Andy press, reportedly is more than just a redesign or a gradual evolution of existing technologies. Among the most obvious changes is the press's outward appearance, which boasts a compact footprint. Also, the side frame design is nearly double the width of previous Mark Andy presses.
"What they're offering really is new technology," Ashworth says of the LP3000, "and I'm not afraid to be the first one to try something new. I really, truly believe in Mark Andy because of what they've done for us. They're very supportive, and they're always there for us. I had no reason to believe it would be any different taking delivery of the first LP3000, and it hasn't been."
The list of advancements that have been integrated into the press reads like a "what's new" in flexographic printing:
Quick Load plate-loading technology has pneumatic controls.
A "QC" Quick Change ink carriage allows meter rolls and doctor blades to be set outside of press.
A constantly turning anilox roll allows ink pans, meter rolls, and anilox rolls to be changed while the press is running.
40-in. unwinds and rewinds are standard.
An equipped unwind and dual in-feed pacing module are included.
Helical gears are featured throughout the press; impression rolls are driven directly by the helical gearboxes, and lineal adjustments are separate from pacing.
Each dryer tunnel has independent temperature controls.
Press has one-touch electronic controls.
"There are a lot of things to like about the press," explains Ashworth. "The set-up, the dryers, the better controls. It's just generally a more friendly press. Because of its size, everything is bigger but more compact; it's a very stable press. Once our people understood what is essentially a 'new' machine, it's really been producing. It holds register well, so we're starting to put more technical jobs on there, and the running speeds are getting faster."
Ironically, when Ashworth purchased the company in 1981, Associated Printers (as it was then known) was strictly a commercial print shop that had yet to produce a single label. Several years later, Ashworth purchased a three-color, 7-in. Mark Andy 820 flexo press after one of his customers was looking for a local company to convert pressure-sensitive labels.
"We brought the 820 in and didn't know what to do with it," a smiling Ashworth says. "There it is! What do we do?" Quickly he hired an experienced offset pressman, who traveled with Ashworth to Mark Andy's St. Louis, MO, headquarters for training.
"Initially, the main purpose [in buying the press] was to satisfy this one client," notes Ashworth. "Then we started getting the odd label order here and there, and we started to think, 'Hey, we can make some money on this thing.' The first job we were really excited about was for 25,000 labels; that was really something!"
Today, Associated's capabilities are really "something else." When the company moved to its current 20,000-sq-ft headquarters in 1993, it brought with it just four presses.
Since that time, Associated has enjoyed "very rapid, double-digit growth" and has expanded to 50,000 sq ft, notes Ashworth. "In the nine years we've been here, we've added six presses."
Its arsenal of Mark Andy presses — the company's sole supplier of printing equipment — includes the LP3000, a 4150, a 4120, three 2200s, a 2100, the 7-in. 2200, an 830, and the original 820 press. Associated Labels has 28 UV curing systems throughout the production area.
Ashworth says although he prefers to use his array of presses to serve industries and end-users that have a value-added, quality focus, "we do not turn down any order. All of our larger accounts started small, and we've grown with each other.
"We have to be a 'jack-of-all-trades' in this location, because our market here is very limited," notes Ashworth. "We do not have a major industry we can focus on, like in the Silicon Valley. It's a little here, a little there. I have a lot of friends in the converting business in the California area that just focus on industry-specific items, and they do very well. But when things turn down, they're scrambling, and that's what's happening now. So the bottom line for us is that we're so diverse our business is never really off that much, though the North American and world economies certainly affect everyone."
Reduced Platemaking Time
Because of its diverse capabilities, Associated's press runs can reach into the millions. Yet, the company still maintains a standard five-day delivery time and can turn around orders in just hours to accommodate customer emergencies. In fact, its 94 employees are on call to do just that. "The only way you can maintain that five-day delivery and also accommodate rush orders is with a lot of presses and a lot of shifts, running 24 hours a day," explains Ashworth. "There's nobody locally that has anything close to our capabilities. We have that flexibility because there's always a press being set up or taken down, and we can slot in 'rushes' and 'panics' because we have that flexibility. We can accommodate them, and at the end of the day, that's what builds customer loyalty.
"We are large in our local market because we really care about what we're doing and the needs of our customers." Ashworth says installing the Mark Andy LP3000 UV flexo press, a Creo ThermoFlex flexographic CTP imagesetter, and a DuPont Cyrel FAST platemaking system has improved Associated's ability to meet those needs.
Ashworth says the Cyrel FAST system in particular has reduced platemaking time dramatically from two-and-a-half hours to just one hour per plate. "So, our bottleneck now isn't outputting plates," says Ashworth. "It's getting the work to the platemaker."
The Cyrel FAST 1000TD analog processor is a solvent-free unit that uses dry, thermal processing to produce the printing plates. It uses a nonwoven fabric to remove non-polymerized plate sections with the aid of controlled pressure and temperature levels, and thermally develops plates to 35.4 × 47.2 in.
"With the FAST system," Ashworth adds, "DuPont services the equipment and disposes of all the spent developer rolls. This has reduced our chemical disposal rate to zero and will allow us to dispose of our recycling unit. DuPont has a very aggressive, customer-focused program, which is just the kind of partner we're looking for."
The Cyrel FAST platemaking system, along with the Mark Andy LP3000 and the Creo ThermoFlex flexographic CTP imagesetter, have become popular "stops" on frequent customer tours of the Coquitlam, BC, facility. And strong selling points as well.
Ashworth explains, "We show a lot of customers things they have never seen before, and they say, 'I didn't know you could do that.' I think it all comes back to our mission statement: people, ethics, and quality. I want to be very proud of what we do." And, it seems, he has every reason to be.

CONVERTER INFO
Associated Labels
61 Clipper St.
Coquitlam, BC, Canada V3K 6X2
604/525-4764; associated-labels.com
---
SUPPLIER INFO
Mark Andy Inc., Chesterfield, MO; 636/532-4433; markandy.com
Creo Inc., Burnaby, BC, Canada; 604/451-2700; creo.com
DuPont Cyrel, Wilmington, DE; 800/345-9999; cyrel.dupont.com
---