Published: June 26, 2017
BRUMMEN, THE NETHERLANDS | GSE Dispensing will present ink management software, dispensing equipment, and proofing solutions at Labelexpo Europe 2017, September 25–28, at the Brussels Expo in Brussels, Belgium. Products reportedly enable label and packaging printers to reduce costs throughout the workflow and achieve repeatable color on-demand.
Company says the highlight of the stand will be the introduction of Ink manager, a comprehensive ink management solution said to eliminate all aspects of ink-related waste and to offer optimized ink yields through recycling press returns, as well as improved connectivity, mobility, and reporting capabilities.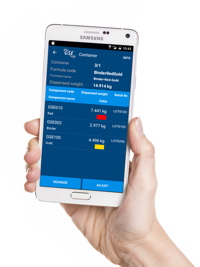 Features include a modern user interface said to offer ease of use and extensive search functionalities, a job list separating work preparation and ink production and a modern web interface for seamless integration with other applications, including ink formulation, management information, and cloud software.
The Ink manager is supported by mobile apps that allow remote data-entry and access to real-time information. This is made possible thanks to Wi-Fi connection to the ink dispenser. Product also facilitates collection, analysis, and presentation of ink-related business information. The operator can view recipe data and ink costings related to each job and store new color specifications for easy recall when jobs are repeated. The software also facilitates ingredient tracking through the supply chain by storing ink batch data about every job.
Company also will show Colorsat modular dispensing systems for flexo, gravure, and screen processes.
The GSE Dispensing-affiliated company, Print Proof Solutions, will exhibit the Perfect Proofer Evolution Series table-top wet-proofing system for flexo applications. Using the same consumables as those on the press, the Perfect Proofer reportedly gives precise, predictable results to an accuracy of within 1 DeltaE of the target color on the press.
This email address is being protected from spambots. You need JavaScript enabled to view it.