Published: February 24, 2012
Fast-growing markets in Eastern Europe require high level of technology.
Multipress, Krakow, Poland, has customer-initiated quality requirements that are increasing continuously. In order to remain competitive and a "nose ahead" in the fast-growing markets in Eastern Europe, it is necessary to offer the highest level of technology.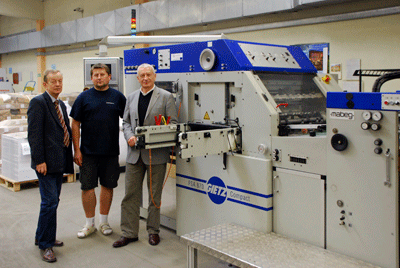 "In this sense," says Andrzej Rabenda, president/owner of Multipress, "the decision to invest in a Gietz foil stamping machine was the logical consequence in order to represent reliability, precision, and high production performance, and to meet the rising quality level for print-finished products for books, albums, brochures, labels, and greeting cards."
Multipress is the largest private printer in Krakow. Its history dates back to 1988, the end of the monopoly of state-owned printing, famous for its substitute packaging and smudged, greyish publications of books and albums, which were always in short supply.
Over the years, Multipress has mastered several previously unavailable printing technologies, particularly for print quality improvement. In 2003, the company obtained the ISO 9001 certificate. The company has opened a studio for graphic design together with famous photographers from Krakow who are supporting Multipress's customers with top brand designs.
Grand Prix Award 2010
With the intention to handle every customer request in house, Multipress purchased some years ago a second-hand Gietz FSA 790 EFF machine to enable the company to familiarize its operators with hot foil stamping. It was a perfect experience in this print finishing method.
The ongoing increase in quality demands and customer requirements made it necessary to invest in second Gietz FSA 870 Compact machine, this one being a brand new machine.
"Thanks to the purchase of our new Gietz FSA 870 press, we have gained a great experience and a high quality level of foiling that allowed us to win, in turn, several industry awards, among them the award of Zrzeszenie Polskich Fleksografów and the Grand Prix 2010 for the excellent production of wine labels for "Daos Cabernet." The Gietz machine is a perfect fit to our range of first class printing equipment and to our high standard finishing line to keep up with international competitors" says Rabenda.