Published: June 22, 2016, By Dene Taylor
Printing expert Dene Taylor reflects on the recently concluded trade show where digital package printing was a real market focus.

This year's drupa theme was "touch the future," and the show lived up to it. Although drupa is renown for introductions, this year most new machines were running for hours, few were merely for show, reinforcing that the printing industry has been transformed—the future is sooner, and development times are being compressed. The show, organized by Messe Dusseldorf, took place May 31 to June 10 at the fairgrounds in Dusseldorf, Germany.
All printing markets are active, but the primary focus was on packaging, with nearly all OEMs—both traditional and digital (of course many offer both)—demonstrating their relevant technologies. And with the converting community's interests, I had a great deal to cover. Key observations include the following:
It seemed easier to count the OEMs without digital printing than those with it.
Digital presses are faster and wider, becoming more suitable for longer short-runs.
Analog presses have simpler and quicker changeovers supporting the market trend to shorter long-runs.
Precision is not sacrificed with greater productivity—indeed, it is enhanced, I believe, because now digital technologies are at the heart of all engineering design and press manufacturing.
Enhancement of retail packaging to catch the eye of the shopper is served with brighter colors, more metallic effects, and structuring in the third degree.
The use of ultraviolet (UV) and electron beam (EB) cure inks is expanding rapidly, with the latter now cost effective for a bigger share of the food packaging business.
Extended color gamut (ECG) printing, although not yet commonplace, is no longer a novelty in the flexographic market.
HP Has Most Hall Space and Needed More
In spite of publicity and perceptions, the floor space at drupa was still mostly supporting analog printing. But the change to digital was highlighted by the reversal of Heidelberg and HP. Previously, Heidelberg had the most hall space, but this year it was HP. And even Heidelberg has invested heavily in inkjet, demonstrating the B1 format Primefire 106 aqueous, developed in cooperation with Fujifilm. This press was showing prints clearly suitable for commercial print and food packaging, an advantage of employing aqueous extended color inks. The Heidelberg–Gallus DCS 340 inkjet label press, now the Gallus Labelfire 340, drew plenty of attention. As is becoming the norm, it can be configured with all the traditional press components, from flexo and screen, to foiling, die-cutting, and laminating.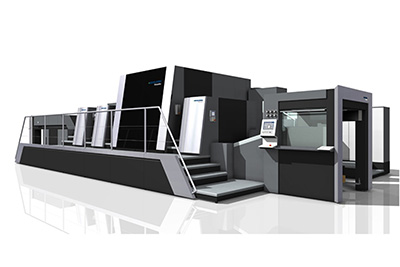 HP could have used a bigger space—there were more than 40 printers and presses on display, and with the crowds, it was difficult to navigate. HP has done an outstanding job completing the development of the Indigo printers, then refining and extending the product line and the capability through the label, folding carton, and now flexible packaging markets. In the latter, it does not yet have a real digital printing competitor, although that should change in the future. Indigo is also a force for commercial print, and based on the ink group's demonstration, is capable of playing a role in select niches.
BOARD PRINTING
A new arrival to the HP platform is the PageWide C500 aqueous inkjet press for corrugated board. Like many of its inkjet engines, PageWide is available to other OEMs. Neuralabel has a benchtop label printer based on it.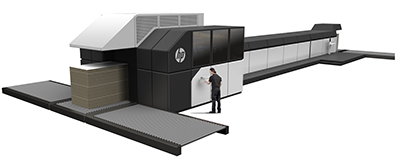 HP is not the only company utilizing the benefit of non-contact printing on heavy board with its inherent dust. Barberan's Jetmaster 1890 single pass UV inkjet printer got good comments from several printers as it processed white face corrugated board at about 55 mpm. The preferred roll pre-coater is a really reliable workhorse—I ran hundreds of panels through one without any issues not caused by one of the operators. The Jetmaster comes optionally with extended color gamut (ECG) ink sets, the digital alternative to high intensity spot colors. Like most UV printers, it uses grey scale head technology for crisper print.
Corrugated board is the target for EFI's Nozomi single-pass UV inkjet press. It is EFI's largest printer development and also its largest machine, being 1.8m (72 in.) wide and running at up to 75 mpm (250 fpm). Inks are LED UV cure, EFI strength, with extended gamut plus white, so they are well suited for the board market. The press is to be shipped starting about this time next year, two and a half years from project initiation. EFI's approach to process development was clearly stated by CEO Guy Gecht, when asked about the role of invention at his company: "We don't invent—we adapt."
Following that line is the introduction by EFI of AquaEndure ink, UV-cure formulations dispersed in aqueous solutions, a technology used over two decades ago for garment decoration by our colleague Patrice Giraud. Sun Chemical and Durst began offering similar ink last year; it cuts ink usage while providing formulation relief from the very low viscosity constraints of 100% UV inkjet inks.
The Nozomi depends upon another recent development from EFI—a very high speed Fiery digital front end (DFE). Seven colors at 75 mpm and 1.8m wide requires a very fast data feed—beyond previous Fierys. Other OEMs using what is reputed to be the fastest DFE include Heidelberg, Landa, and Xerox. EFI's competitors in this sector all have significant advances, again to support the technology movements to higher speeds, higher resolution, and greater widths.
Fujifilm has long been a force in digital printing. The centerpiece at drupa was the Jet Press 720S, a B2 size press able to handle a range of board for high end folding cartons. Again, with aqueous inks and carefully selected chemistry, it can be used for food packaging. Fujifilm's biggest contribution to drupa successes is probably its printheads and print engine. For example, Heidelberg uses a Fujifilm print engine with seven Samba full width MEMS printbars. Adoption for the novel transfer presses was reported as getting Landa beyond one of its development problems.

COLLABORATION IS KING
I have long believed that digital presses were best made by joint projects between traditional press manufacturers—who know paper or film handling, have the customer contacts, and understand the applications—and digital print engine manufacturers. In addition to Heidelberg and Fujifilm, KBA and Xerox have partnered to produce a B1 folding carton printer. Landa and Komori now have a tight relationship. HP and KBA produce the T1100S web press. Konica's first B2 sheetfed inkjet press, KB1, was developed with Komori (its version is the Impremia IS29).
Kodak has teamed with a number of frame manufacturers including manroland web systems and the Swiss company Matti Technology AG for deployment of high-speed full color PROSPER CIJ print engines. The performance of its monochrome printheads on high-speed web presses is, of course, legendary.
Memjet sells only print engines and inks to an increasing number of OEMs, including at its drupa booth Colordyne, Delphax, Digikett, Xante, and Trojanlabel. Other OEMs at drupa with Memjet technology included Canon-Océ, Afinia, New Solution, and Xerox, so its market is developing further from its origins with envelopes and labels, to wide format graphics, direct mail, and institute publications.
SLEEVE OFFSET
The capability of offset printing to address lower run lengths for packaging was demonstrated well by Goss with the Thallo, Vpak 350, and Vpak 3000 web presses and OMET with its Variflex. These web presses have sleeve technology, so they can compete well with flexography in many markets, by offering rapid change, variable repeat lengths, and true offset quality at nearly 2m wide. Additionally, the sleeve plates are supposedly an order of magnitude lower in cost than flexo plates. Goss has made a compelling case for the use of sleeve-offset printing for the rapidly growing short long-run packaging market. It is difficult to see the toner printers competing in this space based on productivity and cost. Kodak Colorstream looks to be the most promising inkjet technology, although it will be best as a hybrid. Goss is also in a position to dominate a major piece of the market the Landa Nanotechnology is targeting.

Landa Nanotechnology was again the flashiest exhibit with three inkjet presses running, two of which are destined for beta sites "later this year." Landa is not the first with nano-particle ink, but it is the first to totally separate the substrate from all the water in aqueous inkjet ink; that should be a big step forward, especially for printing on offset and flexographic substrates with little or no capacity to absorb water. However, the rate of development has been slow, and I suspect that there are still some serious technical limitations that are not going to be addressed with this generation of print engine design, and that is probably what the new CEO is stuck with. Other companies are moving faster into the same space and leaving less and less for Landa.
OMET demonstrated quick change on its narrow UV flexo press with traditional drive rather than servo. The roll change is seconds, with a laser pointer on each station for initial roll registration. Each station has its own registration camera (camera technology is inexpensive), so on startup, the operator began bringing each station into registration manually with the press at slow speed. The total waste from startup registration was much reduced. And with cameras at each station, any registration change was instantly visible at its source. Is this capability being offered for retrofit to existing presses?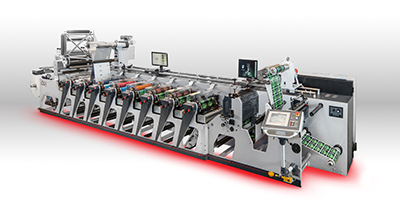 EXTENDED COLOR GAMUT
The OMET press also was running a seven-color extended color gamut plus white ink set. And that was common with a preponderance of the flexo and offset OEMs. Obviously, they must show they can control color so that it's reproducible from job to job and ECG is the demonstrator. Inkjet printers must offer ECG for packaging—the standard CMYK mismatches a large number of industry spot colors. This leads, of course, to the range of the available gamut for any press. If you work with most OEMs, you know they have gamut targets, and they are presented graphically. But in sales arenas, that may not be the case. For example, one major OEM described its gamut for CMYK as 84% of Pantone colors, and for its seven-color ECG as 95%. Someone asked a follow up question intended to get a more conventional explanation, but the same was repeated. So I took the question to the Pantone booth where the experts were equally puzzled. We concluded that it will be better to ask for the specific colors that are not matched properly.
With inkjet matching spot colors is only one reason OEMs install ECG. Equally valuable is that less total ink is required to get the brighter colors in the four-color gamut. And that pays dividends also for drying of aqueous inks. Landa Nanography presses especially benefit from this—ink and drying load is distributed over the full press length.
OMET also had ECG on its electron beam-equipped offset press running flexible film at speed. EB cure has a long history of utility for food contact container and package printing because if the beam is active, the ink is cured. It is the standard for low migration. With the increasing demand for production efficiencies and low environmental footprint of energy cure (UV and EB)—coupled with cost reductions for EB equipment—there is a substantial increase in interest and adoption. The three major suppliers for printing, Energy Sciences, PCT Engineered Systems, and Comet, each had devices at OEM exhibits: PCT at OMET and ESI at KBA. Comet/PCT joined with PPSI, an inkjet integrator, and Collins Inkjet to demonstrate the combined technology on a narrow inkjet press. It was a popular booth and a forebear of future developments for packaging and labels. Several other companies offer EB inks for flexo and offset: Toyo, Wikoff, INX, and Flint are just a few.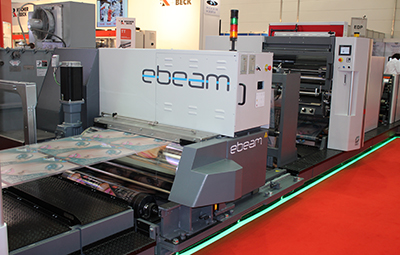 At drupa 2012, I saw only one CI flexo press, and it was not running. This time there were several, and one wide press had EB cure for flexible film. This was another demonstration of the shift, at drupa, from commercial to package printing.
The growth in use of UV-cure ink was widely demonstrated with products for offset and inkjet from many sources. Low migration inks, suitable for indirect food packaging when properly cured, are more widely available. Agfa is seeing good utilization of its low migration inkjet products.
Toner technology was well represented. HP Indigo had multiple machines running, fitting for its dominance of the digital label and flexible film markets. Xerox iGen 5 has FDA-compliant ECG options using the fifth station for orange, green, or blue toner. Kodak Nexpress drew a lot of people; Miyakoshi was again present in force; and Xeikon introduced its Trillium liquid toner press. In time, this will be available for packaging. And the likes of Canon and Konica Minolta were demonstrating ever-more productivity and performance.
We are all aware that a product's visual appearance on the retail shelf can have a powerful influence on the purchaser. Coupled with another attractive sense—such as feel or odor—makes the appeal hard to resist. There were many vendors of metallic foils in a vast range of colors and patterns. Digital foiling—where the adhesive is printed digitally and therefore potentially different from image to image—is a finishing option on a number of presses, including MGI. Landa has a system derived from flocking with metal flake on an inkjet printed adhesive. But Scodix is the real master—combining foil with thick clear ink deposited in patterns that complement a print, in a very productive UV-cure inkjet press.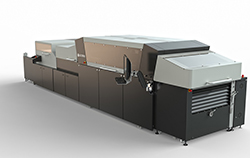 My personal highlight was at the Kodak booth. Thirty years ago I worked at Mead Research in Chillicothe, OH, where continuous inkjet technology, as used for PROSPER and Ultrastream, was conceived. Although moved to Dayton and spun off by Mead before my tenure, there were strong links between the groups, sort of like second cousins. Four years ago, I wrote about the prototype full-color PROSPER press, and how it was designed by people who understand paper. This time, not only was the PROSPER press running, but it was linked to a complete manroland FoldLine finishing system, producing a wide range of different printed items from bright handouts to customized retail inserts—and it ran to 1,000 fpm for the lighter-colored products.
The Ultrastream was printing full-color graphics onto polypropylene sleeve label stock, also capable of very high speed. This system is available in narrow format for labels. But a prime market is for hybrid flexible packaging presses targeting packaging where one basic item is sold in multiple different markets, such as states or countries, each with its own language or labeling requirements. A set of ECG printheads in-line on a flexo press permits production of dozens of variants with the printing of one panel or one side of a pack with variable print, and the rest with the lower cost analog. In this area, it can be the big brother to Indigo—being wider, faster, and lower cost once the analog changeover downtime is amortized.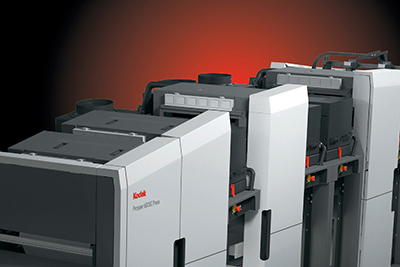 To recap, at drupa, printing of packaging was a real market focus, with digital print for all applications now becoming relatively commonplace even though dominating only a very few niche markets. Analog continues on its lifelong price performance curve, keeping a cap on the aspirations of die-hard digitalists. And touching the future does not require much patience—so much is so close.
Contributions from my colleague, Vince Cahill of VCE Solutions, are much appreciated.
Printing expert Dene Taylor, PhD, founded Specialty Papers & Films Inc. (SPF-Inc.), New Hope, PA, in 2000 for clients seeking consultation for technical management, new product design, development, commercialization, and distribution, as well as locating/managing outsourced manufacturing. Contact him at 215-862-9434; This email address is being protected from spambots. You need JavaScript enabled to view it.; www.spf-inc.com.