Published: January 12, 2012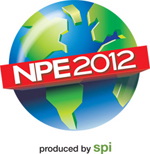 WASHINGTON, DC | Organizers of NPE2012 The Interntional Plastics Showcase recommend reserving hotel rooms now. Rooms for the event, scheduled for April 2–5, 2012, Orange County Convention Center, Orlando, FL, are available at guaranteed lowest rates for a limited time from the NPE2012 Housing Office (EXPOVISION); ph: (866) 523-0876 or (703) 205-2975; e-mail: This email address is being protected from spambots. You need JavaScript enabled to view it..
SPI The Plastics Industry Trade Assn. reports that this is the only official housing agency of the show. Attendees and exhibitors should not be misled by other companies claiming to be affiliated with the show.
Complimentary shuttle bus service will be provided to guests booked within the official NPE2012 housing block.
In addition to the exhibits, NPE 2012 will feature SPI 75th Anniversary Golf Tournament; Venue Orientation; a Brand Owner Panel Discussion; an American-Style Barbeque; an Opening Gala, and the presentation of the IPDC awards.