Published: January 10, 2012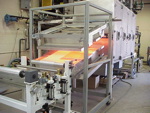 HAWTHORNE, NJ | Radiant Energy Systems, a custom manufacturer of process heating systems, reports the expansion of its New Jersey plant. The facility increased production area by 50% in size with 5,500 more sq ft of manufacturing space and new engineering offices.
"The new production area will help [us] keep up with increased international demand," explains company president Bob Narang. The company already offers a range of lab testing services for new product development and a pilot line running roll-to-roll trials and limited production runs.