Published: November 08, 2011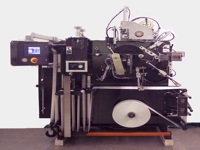 WEST CALDWELL, NJ | The Model STACRW2-6 automatic turret rewinder from CTC Intl. is said to have everything needed to automatically finish small roll labels without additional unwinding equipment. Standard features include servo drives, touch screen controls, cantilevered edge guided unwind, splice table, integral slitter, glueless or coreless start, tail label roll closure system, semi-automatic core loader, and automatic roll eject with integral roll tray. Company's Tricycle gear caster system is also included standard.
The tail labeler has the ability to make its own labels from label strip material that has not previously been die-cut. The labeler also can be supplied with "easy-pull-tab" type labels to facilitate opening the rolls.
Turret is engineered to achieve maximum functionality with a minimum of parts, using only two shafts for fully automatic operation. The compact footprint allows the machine to be moved quickly.