Published: November 07, 2011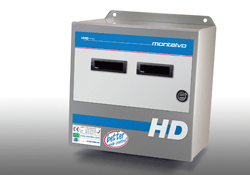 GORHAM, MA | The Montalvo Corp. has developed a new tension indicator designed to provide accurate and repeatable web tension. The i4-HD offers either single or multiple tension zone monitoring and can be supplied with analog or LCD digital meter displays.
The unit is said to provide excitation voltage as well as zero and calibration circuitry; a measurement range that accommodates most applications; a 24-volt alarm output with an adjustable trip point; and an output that can interface with PLC, PC, or DC/AC or servo drives. It is compatible with most semiconductor strain gauge and foil gauge load cells and the full range of Montalvo load cells.
Diagrams showing how the i4-HD indicator works, dimensional drawings, operating and storage temperature ranges, and a full list of specifications are available on Montalvo's web site.