Published: February 18, 2010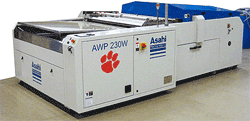 ATLANTA, GA | Thanks to a recent installation of equipment by Asahi Photoproducts), Clemson students, faculty, and researchers will gain hands-on experience with the latest in digital platemaking technology. Asahi placed its new AWP 230W water-washable plate processor along with its AFP 912 exposure/drying/light finisher unit at Clemson's Sonoco Inst. of Packaging Design and Graphics. The equipment will aid the institute with its exciting and innovative research in the printing and packaging industries.
The AWP 230W processor is designed specifically to process water-washable plates from Asahi. Using only a detergent and water mixture to process plates, Asahi's AWP 230W design eliminates the need for solvents and the release of VOCs during the flexographic platemaking process.
The AWP platemaking process (back exposure, digital imaging, face exposure, wash-out, drying, and light finishing) takes less than an hour to complete. The wash solution in this VOC-free process produces plates that are said to be at gauge immediately after the processing.
Flexo Plate Suitable for All Ink Types
In addition, Asahi will provide its newest flexographic plate product, the water wash digital AWP DEF for the process. Asahi's AWP DEF plate is suitable for all types of inks (solvent-based, UV-curing, and water-based), exhibiting excellent printing performance, ink transfer, and plate durability.
This water wash digital plate will allow the institute to print in excess of 175 lpi, 1%-98% dots. The plates will be provided in thicknesses of 0.045 in. and 0.067 in. at a hardness of 77 and 70 Shore A respectively.
Due to the unique characteristics of the AWP DEF plates, the students and researchers have the ability to extend their color capabilities by easily combining line and screen work on the same plate with excellent reproduction and printing of both elements.
Asahi Photoproducts recently opened its Atlanta Technology Center near Hartsfield-Jackson airport. The fully equipped platemaking facility will provide customer demonstrations, in-house technical training and research, as well as customer support. Currently, three Clemson Graphic Communications alumni work from this facility, including David Chinnis (1985), Michael Amosu (2006), and Catherine Whitaker (2007).
Related Articles:
Omet Partners with Clemson's Sonoco

Harper Donates to Clemson's Sonoco

MicroDynamics Donates Inspection System