Published: December 09, 2009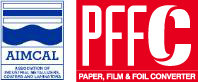 FORT MILL, SC | The Assn. of Industrial Metallizers, Coaters & Laminators will co-host with Paper, Film & Foil Converter (PFFC) a free webinar on Coating Solution Preparation Technology on January 12 at 11 A.M. EST.
Instructors Dr. Ed Cohen and Dr. Ken McCarthy will unveil how to achieve the optimum solution mix that produces an effective high quality low cost coating process. Recently developed techniques will be covered that estimate blend time to result in a given degree of uniformity in a mix tank. Emphasis will be placed on the most common mix situations in coating , i.e., the blending of liquids and the solubilization of solids in liquids when liquid viscosity is low to moderate, or less than 2,000 cp.
Also highlighted will be several techniques to characterize the quality of mixing in an existing mix tank and agitator; a general view of the relationship of mix parameters; and a circulation method for evaluating new fluid in an existing tank will be demonstrated.
To register for the free webinar, contact AIMCAL at 803-802-7820 or visit: https://www1.gotomeeting.com/register/952703208.