Published: March 05, 2004, By PRESS RELEASE
APPLETON, WI, USA—Appleton reports it has developed a new product that offers cut-sheet paper producers and retailers a repulpable and 100-percent recyclable ream wrap product that delivers "outstanding moisture barrier protection." The material manufacturer's new MoistureBloc for ream wrap was developed to meet the increasing call for environmentally friendly paper-based products, adds Appleton.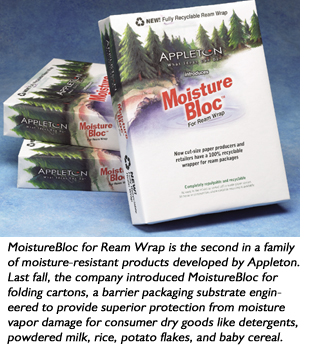 "There is a common misconception that all ream wrap is fully recyclable," explains Appleton's VP of performance packaging Steve Sakai, "but it's not and it often ends up as landfill waste. We use our coating capabilities to engineer MoistureBloc to provide cut-sheet producers and retailers a moisture-resistant barrier wrap with great shelf appeal that they value with the recyclable and repulpable capabilities they prefer."
According to Appleton, MoistureBloc for ream wrap combines a flexographic print surface, sheet toughness, and easy convertibility with a patent-pending coating formulation that provides outstanding moisture barrier protection.
MoistureBloc for ream wrap has been certified repulpable by Great Lakes Pulp & Fibre to be included in sorted office paper. Great Lakes is a 470-ton per day de-inking operation in Menominee, MI, and is operated along with a sister mill, American Fiber Resources, Fairmont, WV, by AFR Holdco, Inc.
For additional PFFC coverage about Appleton's MoistureBloc for folding carton packaging visit pffc-online.com/ar/paper_appleton_launches_moisturebloc/index.htm. Visit Appleton at appletonideas.com.
---