Published: September 21, 2023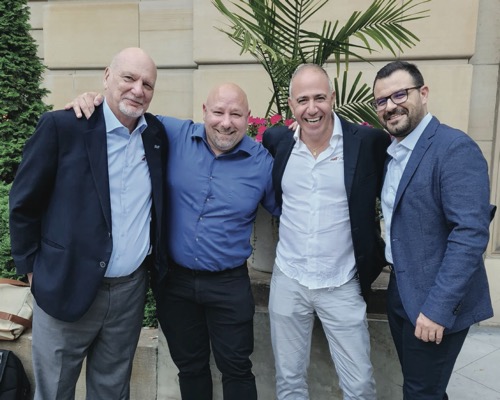 Significans Automation is continuing its tradition of partnering with the printing industry's best OEM's, software companies, and other suppliers. The latest collaboration is with Elitron America Inc. (elitron.com), a leading global manufacturer of cutting, print-finishing, and robotics systems for several industries – including digital printing, packaging, wide format, leather, composites and more – headquartered in Monte Urano, Italy.
The last time both companies partnered was May 2023, at the Graphics Canada tradeshow.
The two companies are enhancing their relationship to offer higher levels of production automation, integration, and performance to their respective customers.
"Our objective has always been to integrate the production processes as much as possible, from initial input files to digital finishing," said Marc Raad, President of Significans Automation. "In our research, we discovered that Elitron has one of the most elite backgrounds in the world for digital finishing systems and technology. Its robotic, unmanned, agile systems are second to none. We feel they represent a sophisticated, adaptable, and expandable finishing and cutting technology on the market today – and we're always looking to partner with the best of the best to bring our printing and packaging clients more value.
"This partnership also allows us to accelerate the end-to-end workflow process, specifically for print finishing, while achieving more automation throughout a printer's entire production line," adds Raad. "We can now add elevated levels of workflow automation with a customized Turbo Switch Pack for the Elitron file format. Turbo Switch Packs combine best-in-class workflow automation and layout software with software maintenance, specifically configured workflows, powerful Enfocus Apps produced by Significans Automation, as well as installation, training, and support. Partnering with a best-in-class provider like Elitron makes us stronger and better able to provide our customers with more advanced and sophisticated workflow automation and integration solutions. It's a win-win-win situation – a win for Significans Automation, a win for Elitron, and most importantly, a win for the hard-working clients of both companies."
A Higher Level of Automation
"With advances in robotics, we are seeing a bold, more complex age of print production that will require even more automation," remarked Marc Rannow, National Sales Manager of Elitron America Inc. "Our partnership with Significans Automation, one of the most innovative software and workflow system integrators in the industry, will allow print businesses to exceed expectations of what's possible within a digital workflow. It will facilitate an ultra-efficient, end-to-end, 'lights-out' production environment that requires little or no human intervention.
"With this integration, the output will include all the key information customized to the client's specific Elitron cutting device, seamlessly incorporated into that shop's specific and unique workflow," continued Rannow. "Over time, this higher level of automation will yield substantial time and cost savings, improved cutting accuracy, and faster turnarounds, taking in-shop production efficiency to unprecedented new levels."
Daniele Gallucci, President of Elitron America Inc, added: "As we prepare for Printing United 2023, we're excited to highlight the potential of our partnership with Significans Automation. With its extensive expertise and industry knowledge, Significans Automation's dedication to integrating print production processes aligns perfectly with Elitron's industry vision. With a strong history in digital cutting systems for the sign and display, packaging, leather, foam, and composite industries, we have demonstrated our commitment to offer automated and integrated solutions. Our systems have consistently set industry standards while offering advanced, adaptable, and expandable solutions. Just to name a few: our patented Seeker System Vision System, dual-head custom cutting, and as mentioned previously, the fully automated Kombo TAV.
"Collaborating closely with Significans Automation, our shared goal is to streamline the end-to-end workflow process, with a focus on print finishing, bringing automation to the sign and display, and packaging sectors. This partnership emphasizes our collective strengths and positions us to deliver cutting-edge workflow automation and integration solutions."
Printing United Expo Booth C2303
The largest tradeshow in North America for the printing and graphic arts industry, Printing United, is set for October 18-20, 2023 in Atlanta, Georgia. Both Significans Automation and Elitron America Inc. will be showcasing the unprecedented cost-saving and in-shop efficiency benefits of their recent partnership, plus the latest software automation and integration products from Significans Automation, as well as the latest cutting, print-finishing, and robotics equipment from Elitron America Inc.
Learn more about Significans Automation at www.significans.com.