Published: April 04, 2023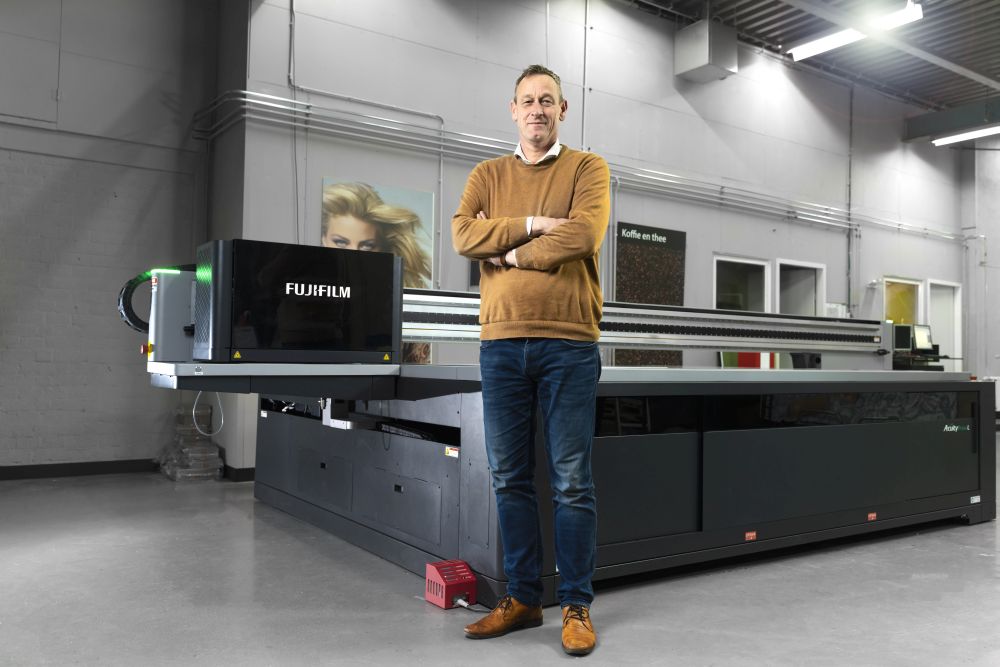 The new printer, which is the larger version of the Acuity Prime 20 and 30 models, will help the company to maximise its productivity and support demand.
Family-run wide format business A1 Signs has become the first company in the world to install an Acuity Prime L flatbed printer at its premises in Apeldoorn, the Netherlands.
Established in 2012, A1 Signs manufactures and installs creative signage, advertising and retail displays. Jan Carel Schepenaar, the Founder and Owner of A1 Signs said he chose the Acuity Prime L because of its fast printing speeds, reliability and high quality output. He was also impressed with the printer's intuitive design, fast start-up time and automatic printhead cleaning function.
Schepenaar explained, "I hate limits and I like to print on the widest possible substrates. The Acuity Prime L, with its 3200mm x 2000mm flatbed, enables us to do this."
The Acuity Prime L is a larger version of the Acuity Prime 20 and 30 printers. It offers print speeds of 202m2/hr, is easy to operate and produces high quality results at high speed. It features six vacuum zones and 16 media location pins, and can print side-by-side jobs with its dual zone function, for maximum flexibility.
Schepenaar highlights that the Acuity Prime L's long-lasting LED curing system is energy efficient, further helping A1 Signs to minimize its carbon footprint.
A1 Signs' partnership with Fujifilm goes back to 2014 when they invested in an Acuity Select X2 printer. This marked the beginning of a long and successful partnership, and when the time came to replace the original machine, the decision to turn once again to Fujifilm, and the Acuity Prime L, was an easy one.
David Burton, Director, Fujifilm Wide Format Inkjet Systems, added, "Since unveiling the Acuity Prime L for the first time at FESPA 2022, it has received a huge amount of interest. We're delighted now to be able to celebrate the first global Acuity Prime L installation and we look forward to many more."
For more information, visit fujifilm.com/uk/en/business/graphic.