Published: April 07, 2021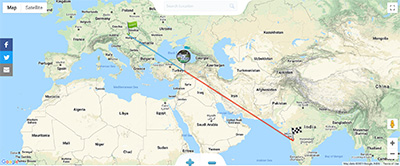 Meech International, one of the world's leading manufacturers of static control solutions for a range of sectors, including print, packaging, pharmaceutical, battery film and automotive is bringing its global workforce together to support charities local to each of Meech's seven offices around the world.
Meech has set itself an ambitious six-month target for employees to run, walk or cycle as far as it can over that time and then to combine the distances covered to move from one Meech office to the next, tracking progress as it goes, eventually making the full journey of 20,250 miles around the world.
Having begun the virtual journey in March, at Meech's global headquarters in the UK, employees have so far logged 2,189 miles, putting then in the middle of Turkey, which means it is now comfortably travelled beyond its other two European offices in Belgium and Hungary. Next stop is India, and beyond that lies Singapore, China and then the U.S. state of Ohio, home to Meech USA, before closing the loop and finishing the journey by September 15, back in the UK.
"We've set ourselves a huge challenge with a target of logging over 20,000 miles walking, running and cycling between us in a six-month period, but we're proud to be raising vital funds for seven very worthy causes, while at the same time encouraging our staff to stay active and healthy," said Chris Francis, CEO, Meech. "The project has also already proven to be an excellent way to bring people together for a common purpose at a difficult time."
Money raised through this challenge will go to the following charities, each selected by a local Meech office:
UK: Oxford Hospitals Charity;
Belgium: Help for Cancer Patients;
Hungary: Heim Pál Children's Hospital;
India: Teach for India;
Singapore: Hospice Care;
China: China Red Cross; and
S.: Fostering Independence.
For more information, visit https://meech.com.