Published: October 23, 2020
HYBRID Software's PACKZ 6.0 leads the way in automation giving customers time saving benefits and a higher success rate while completely sweeping away repetitive tasks from their workflows.
PACKZ can reportedly record and edit series of routine tasks and store them as Pactions. The Pactions can be played back at any time on the entire design, a selection or as part of a custom tool. PACKZ's automated action lists could be seamlessly merged with CLOUDFLOW Packzflow automation on the server.
PACKZ 6.0 comes with Nebula, a redesigned user interface. HYBRID Software aligns the PACKZ and CLOUDFLOW user interface, but above all the 6.0 version contributes to an even more positive user experience.
HYBRID Software brought VDP technology to the market and continues to develop the market leading tools with version 6. The VDP could allow for the populating of executed variable data into repetitions and automating of lead in and out for digital finishing and rewind equipment.
HYBRID Software's Packzimizer is a module for PACKZ 6.0 in which AI gangs label or packaging designs on quantity and outputs print-ready impositions for web-fed presses. Packzimizer will reportedly reduce down-time, increasing productivity, and can be driven from a CSV. The new AI algorithm also lends itself to creating concise and predictable cost estimation and production planning processes.
The step and repeat technology have been extended with push-button separation masking for staggered flexible packaging plates. It allows repetitions to be mounted on a cylinder in a seamless way simply by positioning the seam in between the printable objects.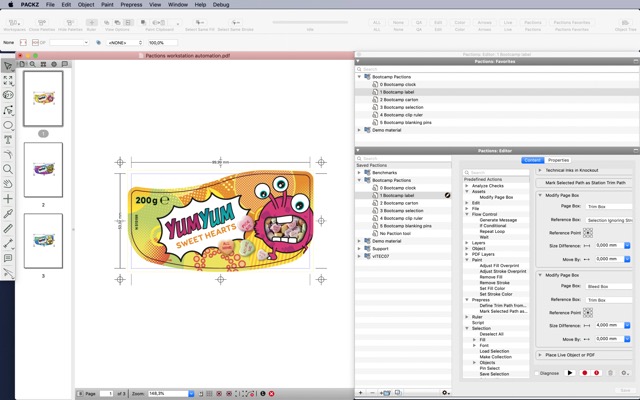 The entire process reportedly conforms with the ISO 19593-1 processing steps and could be exported to a CFF2 for use on cutting tables. PACKZ Cutting Line Definition will work together with CLOUDFLOW RIP and Tectonics Flexo Production Pack.
The Conical, Numeric and Cup Grid Creation together with Conical Warp will be added to the Standard PACKZ license, starting with PACKZ 6.0. The Live 3D rendering stays an option. All grid creation and warping solutions remain optional in Stepz 6.0.
For more information, visit https://www.packz.com.