Published: September 08, 2020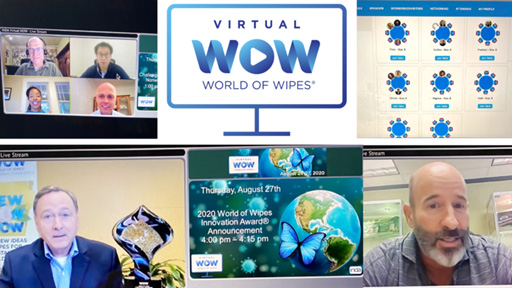 INDA, the Association of the Nonwoven Fabrics Industry, reports its 14th annual World of Wipes® (WOW) International Conference connected over 260 participants from 20 countries to advance their wipes business virtually, through conference presentations, live Q&A, tabletop display rooms, live chat, cocktail hours, afternoon tea, and coffee connections.
In its first all virtual format, WOW reportedly provided critical program content addressing the latest wipe innovations and presentations from 30 industry leaders on issues, market trends, and statistical data to plan business strategies as well as a virtual 3-day WIPES Academy training course.
Among the event highlights was the announcement of Food Fresh Liners from Berk International LLC as the winner of this year's World of Wipes Innovation Award®. Food Fresh Liners are reportedly the first nonwoven that can absorb accumulated moisture in sealed produce packaging to keep produce from wilting and spoiling, thus staying fresher for longer.
Virtual WOW™ reportedly attracted 24 virtual tabletop displays to connect and create meaningful relationships throughout the entire wipes supply chain.
"We are reinventing our approach to conferences to meet the connection and content needs of our industry participants, as well as the social distancing and hygiene needs of the current COVID-19 situation we are in. At the World of Wipes, we were encouraged by our attendees' ability to adapt to the new technology platform and variety of modes we put forward to creatively interact," said Dave Rousse, president, INDA.
Program sessions included Shifting Trade and Market Data, Government Updates/Industry Statistics, Emerging Consumer Wants, Panel Discussions, Industrial Wipes, and Challenges of Plastics in Wipes.
Preceding the conference, INDA presented a virtual WIPES Academy led by instructor Chris Plotz, Director of Technical Affairs, INDA. The Academy is the first and only comprehensive wipes training for the entire wipes supply chain.
In 2021, the World of Wipes International Conference will be held July 12-15, at the Atlanta Marquis, in Atlanta, GA.
For more information, visit https://www.worldofwipes.org.