Published: October 17, 2019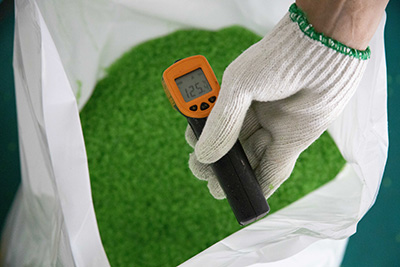 ExxonMobil has created a pioneering technology by blending its Exceed™ XP with ExxonMobil™ PP to deliver films with step-out mechanical performance and high-heat resistance. This new technology pushes blown film boundaries to create new opportunities for high temperature applications, such as heavy duty sacks, on blown film assets. Tougher films can result in less damage to heavy duty sacks and less waste. Lower system costs are possible due to downgauging opportunities of up to 25 percent, compared to an industry standard 125 micron film, which can lead to less material use, while sack integrity is maintained.
"Conventional wisdom suggests that, under normal circumstance, films converters are averse to blending polypropylene and polyethylene for a number of reasons," said David Hergenrether, ExxonMobil vice president, polyethylene. "Our technology innovations have proven that blending Exceed XP with ExxonMobil PP delivers a powerfully unique solution that raises film performance to new levels for a number of applications."
The combination of property improvements makes this new technology well-suited for heavy duty sacks. Converters can fabricate differentiated films with dart-drop impact resistance improvements of up to 50 percent for sturdy and tough heavy duty sacks, creep improvements of over 40 percent even up to 70⁰C and no film deformation due to shrinkage up to 140⁰C, compared to incumbent solutions with high density polyethylene (HDPE). The high-temperature resistance and shrink performance create opportunities for compression liners, hot-fill packaging and stand-up pouch packaging.
"The high integrity of the heavy duty sack films helps prevent damage from the moment the sacks are being filled to the minute the products are used. They can endure dynamic and impact loadings which may cause stress and ruptures during filling, transportation, storage and use in various environments and climates," said Hergenrether. "The creep resistance provides optimum stability even when sacks are stacked or left on pallets for long periods of time, helping to prevent toppling and improve safety."
For further information, visit www.Exxonmobilchemical.com/HDS.