Published: October 09, 2018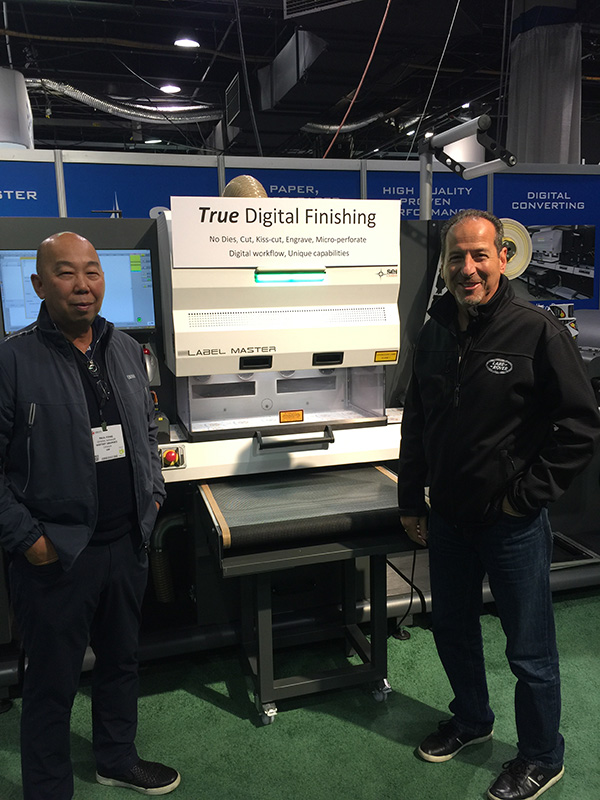 West Hartford, CT | Westkey Graphics announces it has installed an SEI Labelmaster digital finishing machine, the first in Canada, to accompany its new HP 6900 digital press. Together, the two machines provide Westkey with a complete, true digital label production system.
When we made the decision to invest in our HP digital press, we visited SEI Laser and tested the SEI Labelmaster finisher for a full day. We experimented with samples of our own work to see how it would look. We were impressed and made a deal right there," remembers Alfie Karmal, President & CEO, Westkey Graphics Ltd. "SEI and Matik were very helpful. It took a few days to install and then they provided us a comprehensive day's training. We were up and running the next day."
The SEI Labelmaster offers true digital finishing, delivering on-the-fly cutting of a variety of printed jobs including through cutting, kiss cutting, perforating, micro-perforating and single pass engraving. With the Labelmaster digital system, jobs of one to one million labels can be cut without die tooling. This can all be done on roll to roll, roll to sheet, and roll to part cutting, producing intricate designs, cutting and engraving on a variety of substrates at speeds up to 330 feet per minute with quad lasers, with excellent quality.
True digital finishing enables label printers to proceed from a PDF file to ready-to-ship, finished and counted rolls. It eliminates steps such as creating separate die files and reducing die delivery and die station set-ups, which can take more time than the actual production of the labels.
"Most die cutting is mechanical. You have to build dies and keep and replace them. I found the process slow. For us, true digital cutting is clean and simple. More important, we are not waiting for dies, which can take as long as a week. There are no longer specialized dies or a library for every label. That's a big difference," explains Karmal. "The cost of ownership is reduced because it is difficult to charge a customer for dies. It's a sales cost that you cannot recover.
"The SEI Labelmaster also offers intricate cuts that are not possible on traditional die cutting machines, and it cuts on a wide variety of materials, such as synthetic and litho labels," adds Karmal. "Ultimately, if we are making the labels the same way as everyone else, we are competing as a commodity. Now, we can produce different labels for our customers—something no one else can offer.
"Digital finishing has been huge for us. With many major investments, you do not see a cent for months," concludes Karmal. "It doesn't matter how much you print. If the job isn't cut and finished, you cannot ship and bill for it. The SEI Labelmaster has accelerated our speed to market and opened up markets for us. The SEI Labelmaster and Matik have been great to work with."