Published: July 24, 2018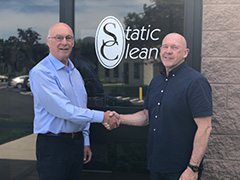 BILLERICA, MA | Jim Patterson, President of Static Clean and Bob Fraser the Managing Director of Fraser Antistatic shook hands on a deal that gives each company broader coverage and depth of products in static neutralization, static generating, and particulate control in their respective markets. Both companies have a long history of manufacturing its own products for the static industry. Static Clean has also been manufacturing one of the Fraser 24vdc static bars in the United States for a year, and the plan is to expand into manufacturing other Fraser products in the first quarter of 2019.
The plan also includes Static Clean becoming Fraser's major distributor in the Americas for its 24vdc ionizers. Fraser products really put Static Clean in a strong position to serve the plastics and converting markets. For 15 years, Static Clean has developed a unique line of static eliminating, particle source-capturing systems for the medical device sector. With the medical device manufacturing growing in Europe and beyond, Fraser Antistatic techniques look to include Static Clean products to serve these emerging market opportunities.