Published: July 19, 2018
ANAHEIM, CA | Rollem International, a leader in print finishing and die cutting equipment recently released a new website designed to assist printers, PSP's, MSP's and binders in easily navigating Rollem's line of products. "Our goal was to create a simpler method for visitors to view our Solutions categories which include: Slitting, Scoring, Perforating & Semi-Slitting, Rotary Die Cutters, Card Pack Finishing, and Paper Drilling" states Daniel Corwin, Digital Marketing Manager of Rollem International.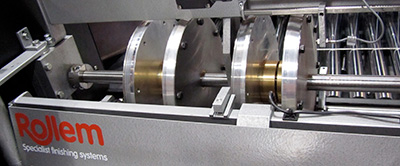 The site also details the four models of the Insignia line of rotary sheet-fed Die Cutters. Insignia, manufactured in the United States and distributed worldwide by Rollem, has seen unprecedented growth as this single machine gives printers the ability to enter the growing markets of packaging, promotional labels and industrial products. Quick changeovers, ease of operation, affordability and full support from Rollem has made this a popular choice for both digital and offset press users. The website offers details of the four models and their various capacities.
The website also displays a category on the Durselen line of fully automated paper drills. These heavy duty, automated drilling systems are produced with German engineering and precision. As one of the few paper drilling manufacturers, the new section offers in depth descriptions and specification on these models. Shop Rollem Parts is a new e-commerce section for existing customers to easily order consumable parts for most Rollem equipment. Visitors can read about many success stories on the website, where customers explain how their new equipment helped them eliminate problems and improve production.