Published: May 08, 2018
ST. LOUIS, MO | Mark Andy says Reflex Label Plus has ordered a top-of-the-range Performance Series P7 for its plant in Barwell, Leicestershire, UK. The new press, which features the updated P7 platform, brings to 27 the number of Mark Andy presses currently in use at Reflex plants, including the seven P Series presses installed last year at Boston, MA. This will be the first Mark Andy to be installed at the Barwell site.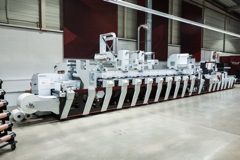 The new P7 has direct servo improvements, fully automated job register, and a more ergonomic design said to improve ease of operation. Specification of the 20-in. (508-mm) ten-color press includes two reverse print stations, delam/relam, and a rail system for foil unwind/rewind, constant tension laminator, and waste rewind. It also has a web translator, single vertical die station, QCDC, and chilled impression drums as part of Mark Andy's film package.
Raymond Young, Reflex Label Plus operations manager at Barwell, says, "Reflex always seeks to be at the forefront of innovation, investing in technology and people for continuous improvement. The Mark Andy P7 was chosen for its ability to redefine workflow productivity through its simple design, efficient waste savings, and extremely fast changeovers."
Reflex Label Plus manufactures labels and printed laminates for sachets. Operations span supply to the personal care and beverage sectors, where the company's expertise with value-added processes are said to be especially in demand, and to the pharmaceutical sector, for which accuracy and consistent quality is of paramount importance. Products include self-adhesive labels, shrink sleeves, linerless labels, and flexible packaging.
This email address is being protected from spambots. You need JavaScript enabled to view it.