Published: December 05, 2017
ROGERS, MN | Flint Group reports the acquisition of Eston Chimica located in Padova, Italy. This acquisition follows the company's strategy to grow not only organically but also through tactical acquisition. Eston Chimica manufactures and sells water-based inks for flexo and gravure applications to printers predominantly located in Italy and Southern Europe. The company supports key paper and board applications, including corrugated, shopping bags, paper bags, and various other water-based print jobs. Eston Chimica is located in northern Italy, near Venice, and employs 32 people.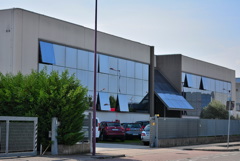 Kim Melander, VP and general manager EMEA and Global Strategy, Paper & Board, Flint, says, "Flint Group is very happy to join together with Eston Chimica. We have found the 'right' partner; a company who, with the dedicated support of its employees, has been very successful in recent years outgrowing the market as compared to other suppliers."
He continues, "Eston Chimica's state-of-the-art facility in Italy is fully automated, providing Flint Group important geographic expansion plus full manufacturing capabilities in Southern Europe—an excellent complement to our established manufacturing facility in Europe.
CEO of Eston Chimica Nicola Mellon says, "The team at Eston Chimica is the principal reason for our business success thus far, and we are very excited by the prospect of growing our business as part of Flint Group. In combining our strengths, we are able to offer our customers cutting-edge innovations in both inks and coatings and customer-focused support. The water-based packaging print sector is growing and changing; this partnership gives us the opportunity to stay one step ahead and effectively plan for the future."
Mellon continues, "Flint Group and Eston Chimica are dedicated to customer success, and we are now presented with a great opportunity to provide our customers with new solutions through our support teams and extended product resources. Business will continue as usual for existing customers with significant benefits being rolled out over the coming months. We genuinely look forward to our future as part of the Flint Group team."
Melander concludes, "With this partnership, Flint Group will substantially increase its volume output for paper and board, enabling us to deliver additional products, solutions and expertise to our customers in Italy and Southern Europe—many of which are key international printers. We have the capacity, the expertise, and the ability to serve all major players in this important region."
This email address is being protected from spambots. You need JavaScript enabled to view it.