Published: August 24, 2017
BURNSVILLE, MN | Telstar Engineering offers a test press that is available on an hourly basis and includes an expert technician to help assure materials, inks, varnishes, adhesives, settings, registrations, and speeds are to your specifications.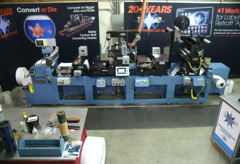 Test include the following:
DecoMod multi-purpose UV flexo station features integrated unwind, rewind, nip, and UV curing allows testing of cold foil, cast and cure, UV lamination, and spot and flood coating;
Hot foil stamping;
Rotary die-cutting: Servo-driven rotary die station is configured with conventional tooling and company's hot stamp system. An integrated unwind and rewind manages the film/foil;
Laminating: Test substrates for speed and appearance;
Rotary screen testing: UV rotary screen printer will mount any manufacturer's rotary screen material for testing of tactile varnishes, adhesives, primers, slurries, medical creams, as well as conventional UV screen inks;
Flexo: Company builds compact, servo-driven flexo retrofits for either right-to-left or left-to-right operation. They feature enclosed chamber inking and Sunday drive to print UV or aqueous products;
Narrow Ribbon: A multi-lane unwind is said to be ideal for supplying narrow ribbons of magnetic stripe, foil, or reinforcement tape.
Servo infeed-nip provides precise, constant tension from 4–60 lbs. This isolates the unwind tension creating a controlled process zone minimizing waste while contributing to re-registration accuracy.
Unwind stand with built-in roll lift is capable of rolls to 13 in. wide and to 40 in. dia. Both 3- and 6-in.-dia airshafts are available. Closed-loop tension system is configured with selectable multi-caliper brake and will hold constant tension settings between 6 and 60 lbs. A built-in splice table allows precision splices.
This email address is being protected from spambots. You need JavaScript enabled to view it.