Published: July 06, 2017
HOFHEIM, GERMANY | POLAR, specialist in print finishing and cutting equipment, reports a new training center has recently gone into operation, its purpose to teach attendees how to build and service the company's products. The facility accommodates up to 24 trainees who receive instruction in two different trades: Industrial Mechanic and Mechatronics Engineer.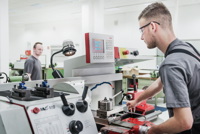 The company explains that both are based on the dual training system in Germany, which means that next to the manual skill training the young people get also theoretical training in school. After a period of 3.5 years, they can graduate as skilled workers/craftsmen.
As a mechanical engineering company, POLAR says it places great emphasis on training in industrial professions. For this reason the industrial trainees have their own workshop, where two instructors focus on the professional qualification of the young trainees. To ensure that these high standards are also maintained in the future, POLAR has now invested in a new training center.
The existing facilities were modified to comply with the traineeship standards and to suit the needs of the young trainees. The rooms were renovated and refurbished and investment was made in additional equipment.
"The trainees and we as their instructors are very pleased with the new, modern training center," says instructor Stefan Jösch. "We can already say that this investment was definitely worth it. Training is now even more enjoyable for everyone."
This email address is being protected from spambots. You need JavaScript enabled to view it.