Published: June 30, 2017
ST. CROIX FALLS, WI | Brandtjen & Kluge and Kurz Transfer Products have announced a strategic partnership in which the two companies will co-market the Kurz DIGITAL METAL technology in the US and Canada.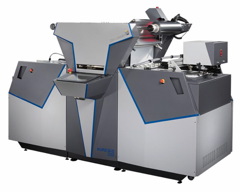 "Kurz and Kluge share a rich history in the foil decoration industry," says Thomas Hertlein, CEO of Kurz Transfer Products. "With this partnership we bundle the strengths of our companies in the areas of foil development, application technology, and technical support for the benefit of our customers in the growing digital printing market."
Leveraging the benefits of the digital print workflow, the DIGITAL METAL process allows digital transfer of foil onto paper and cardboard substrates. At the heart of the process is the DM-LINER, a digital foiling device said to precisely complete the foil transfer, optimize foil usage, and manage inventory intelligently. The DIGITAL METAL process is reported highly effective in producing decorative effects for labels, brochures, invitations, magazines, packaging, photo cards, and calendars.
"The digital print workflow continues to transform our industry in historic ways," says Michael Aumann, Kluge CEO. "Our new alliance with Kurz will build on our momentum in bringing innovative solutions to our clients, and it takes advantage of Kluge's leadership in small to medium size format solutions."
This email address is being protected from spambots. You need JavaScript enabled to view it.
This email address is being protected from spambots. You need JavaScript enabled to view it.