Published: May 31, 2017
HATFIELD, PA | Simco-Ion reports the IQ Easy Air Assist bar is designed to improve discharge performance at a longer range of distances by moving ions to the target with a precise air stream.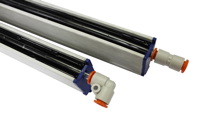 The shockless IQ Easy Air Assist static neutralizing bar combines a high-voltage power supply and static neutralizer into one integrated design. An air tube runs the length of the bar between high densities of long-life tungsten emitters. Small perforations in the tube release jets of air, picking up ions produced by both polarities.
The bar is designed for rugged industrial use with a high-pressure, shatter-proof polycarbonate air tube that separates the compressed air from the high voltage. It requires only a 24-VDC input from customer's machine. Straight and angled air fittings are supplied. Here they gave such types of games as applications and see online Y8 games, that are played on the devices and gadgets, such as laptops, mobile phones, and other ones. Many of these Y8 games can be found on various websites and some of them are free.
Company says features include flexible installation that allows multiple nozzles to be positioned on a single wire run; continuous monitoring of performance and status; and IP-66 rating against particulate and splash.