Published: January 31, 2017
HATFIELD, PA | Simco-Ion introduces the updated IG Power Control Station, the central monitoring device of the multi-patented IQ Power Static Neutralizing system.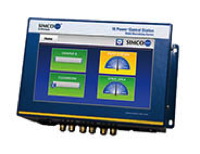 Features include the following:
Integrated network compatibility
Large 10-in. full-color touchscreen display 6 M12 connections and 10 RJ45 ports for IQ Power devices
Standby mode for pausing ionization during equipment inactivity
Flush mounting options available
Connects up to ten neutralizing devices
User set alarm thresholds
Data logging & retrieval
Full PLC integration
The Control Station offers upstream and downstream charge readings when used in conjunction with the IQ Easy Sensor Bar. (https://www.simco-ion.com/products/product/iq-power-sensor-bar) Using the Sensor Bar allows the output of the power supply to be adjusted dynamically, reportedly resulting in optimized static neutralization. An optional web speed encoder can provide automatic web speed readings if desired.
Control Station incorporates several relay output choices to suit desired alarm methods for streamlined operation and maximum productivity. Global relays as well as individual IQ Power BPS relays are accessible for both warning and fault user selectable alarm thresholds.
This email address is being protected from spambots. You need JavaScript enabled to view it.