Published: December 09, 2016
NOIDA, INDIA | Uflex reports the launch of F-UVC polyester film, said to be is suitable for direct UV offset printing without requiring any primer/ treatment. The film is available in both bare transparent and metallized variants, where the un-metallized side is used for UV offset printing and UV curing. The metallized polyester film, i.e. FLEXMETPROTECT (F-UVC-M) is available in optical density ranging from 1.4–2.2. The metal bond between the metal and the film is 130–180 gms/25 mm.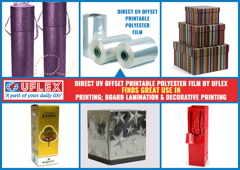 According to company, there are several other benefits of direct UV offset printable PET film besides the ability to print without primer/corona treatment:
The lead time is minimum at convertors' end;
Yields excellent print results, high gloss, and clarity with high quality resolution for pictures and half-tone jobs with good scuffing resistance;
It is suitable for high-speed machines and is versatile, tear proof, and crack resistant;
It offers excellent smoothness, flatness, and ink adhesion.
Ashok Chaturvedi, chairman and managing director, Uflex, says, "Our feedback loop in the global market is very strong. We are always in touch with our clients globally and are promptly responsive to their needs. Convertors had been facing difficulties with primer coating of the films as it takes a lot of time. This had been impeding their productivity. I am happy that the team at Uflex addressed the pain point of convertors by engineering the UV Offset Printable PET Film, which now permits surface printing without any treatment."
This email address is being protected from spambots. You need JavaScript enabled to view it.