Published: September 28, 2016
CHARLOTTE, NC | Flint Group Flexographic Products announces the new nyloflex Xpress Thermal Processing System for flexographic printing plates, reportedly incorporating the speed of thermal platemaking with high plate and print quality.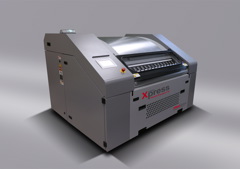 At the heart of the processing system lies the nyloflex Thermal Printing Plates formulated to perform exceptionally well in the nyloflex Xpress Thermal Processor. The first of these plates—nyloflex XPH and nyloflex XPM digital printing plates—are said to offer extraordinary detail with highlights that rival the quality of solvent plates. Specially developed to print on paper at high line screens of 200+ lpi, the plates are capable of printing the finest highlight dots up to 50% smaller in size than the minimum printed dot of the market leading thermal plate, company says.
The nyloflex XFH flat top plate, soon-to-be-released, will reportedly be the perfect choice for printing brilliant solids on film substrates. The thermal plates are suitable for use with virtually any ink system, including solvent based, water based, or UV.
Intelligent configuration of the processor allows for fewer components, so there is less maintenance, less downtime, and lower operating costs associated with its operation. The processor's zoned heating system is built around what is said to be a highly efficient IR assembly, which provides precise monitoring of the heat distribution across the drum width and into the plate. According to company, the perfectly controlled heat imparts better dimensional stability to the plate backing, affording increased stability and consistency to plate processing, and the accurate regulation of the heat eliminates the need for a chiller.
The processor is packed with user-friendly features for an enhanced user experience. The machine interface, or HMI, employs a fully integrated touch screen panel and runs Window CE. Additionally, the HMI contains operator training videos and is wi-fi enabled for remote diagnostics. The processor is also equipped with a visual indicator and an audible alarm that sounds when plates are ready to eject, allowing operators the freedom to perform other tasks while the plates are being processed.
This email address is being protected from spambots. You need JavaScript enabled to view it.