Published: July 18, 2016
CHESTERFIELD, MO | Tomatec Co., a South Korean leading label converter, celebrated the installation of two Performance Series presses from Mark Andy with an Open House at its facility in Seoul. Welcoming more than 30 label converters to the event, which was co-sponsored by Mark Andy and its Korean distributor Phil-Tech. Jeon Seak-Yong, who founded Tomatec in 2001, says that the two P5 flexo presses were chosen for their outstanding ability to handle short-run work with quick and easy changeovers.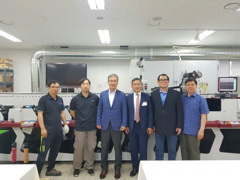 At the event Mark Andy and Tomatec operators ran three different jobs to show the speed with which the press can be made ready, and then invited the visitors to try for themselves. The second print demonstration saw the Mark Andy P5 run a sophisticated prime label with Cast and Cure and multilayer techniques to show converters how to add value for their customers.
According to Jeon Seak-Yong, there were three features of the P5 demonstrations that impressed visiting converters: the production speed of 180 mpm, even when running the cold foil unit; the low level of waste—just 13 m on a six-color job change (carried out in three minutes); and the tight register maintained during press slowdown and ramp-up to full speed.
The two new Mark Andy presses are differently specified. The seven-color P5 is fitted with a Meech web cleaner, Vetaphone corona unit, turn bars, cold foil, delam/relam, constant tension laminator, web translator, GEW UV, and BST inspection. It will be used to target high-end added-value markets. The five-color P5 will be used to produce pressure-sensitive labels for the general and industrial sectors.
Both P5s, which have a 250-mm (10-in.) web width, replace three older European manufactured flexo lines, and initially the intention was to replace like with like. But, Tomatec reportedly was persuaded to switch supplier after seeing Performance Series technology in action at Labelexpo Europe in Brussels.
Since being installed early in 2016, the Mark Andy presses have more than proved their worth, according to Tomatec, with running speeds of 100 mpm on short-run jobs, with 20% more promised when the operators are fully familiar with the technology.
Another reported bonus of the P5 is its ability to handle a variety of substrates, allowing Tomatec to extend its business into the prime label and in-mold markets.
This email address is being protected from spambots. You need JavaScript enabled to view it.