Published: July 12, 2016
ST. GALLEN, SWITZERLAND | Gallus and its parent company Heidelberger Druckmaschinen recently announced that the new product family of all Heidelberg and Gallus digital printing systems would be marketed in future under the "Fire" name. Gallus also reports two more completed sales of the newly launched Gallus Labelfire 340 (previously the Gallus DCS 340).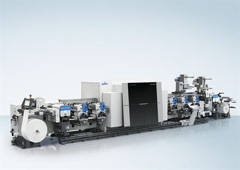 "We are confident we've written the first chapter in a long success story for the new Gallus Labelfire," says Michael Ring, who is responsible at Gallus for international sales and marketing in the digital print business. "Our customers trust in Heidelberg digital technology and Gallus label print know-how shows that our label printing system gives them a contemporary, professional tool that meets changing market needs and offers them a solution to earn money in this sector."
Ring says the centerpiece of the Labelfire 340 is the digital printing unit, a UV inkjet module with printing heads from Fujifilm that prints up to eight colors in a native resolution of 1,200 x 1,200 dpi at a speed to 50 mpm, regardless of how many colors are used. This digital print quality, which Ring says is comparable to conventional offset, is said to be particularly impressive when it comes to small characters, fine lines, and gradients down to zero percent. The unique shape of the inkjet printhead also makes it possible to achieve seamless inkjet head stitching, resulting in a smooth print across the entire web, company adds.
The Labelfire 340 also has conventional production units taken from the Gallus ECS 340 and features a user-friendly HMI, which controls both conventional and digital modules. The combination of conventional and digital printing units reportedly enables printers to varnish, embellish, and die-cut labels inline in a single production run without compromising on print speed or quality.
This email address is being protected from spambots. You need JavaScript enabled to view it.