Published: June 23, 2016
KYOTO, JAPAN | SCREEN Graphic and Precision Solutions Co. has finalized development of the Truepress Jet520NX high-speed, roll-fed inkjet press. The press made its debut at the recent drupa 2016 (http://www.drupa.com) and is scheduled for market release in February 2017.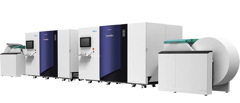 Company says in recent years there has been an increasing demand for diversified, small-volume printing capabilities that closely target the varied attributes of individual consumers. This has been accompanied by a similarly rapid rise in the requirements for direct mail, transactional, and other types of roll-fed printing, and this has given rise to increasing requirements and expectations for highly expandable printing equipment that can meet these needs.
The press is equipped with newly developed 5-in. printhead module and supports a maximum resolution of 600 x 1,200 dpi plus advanced ink volume control. Reportedly, these features deliver significantly enhanced color reproduction compared to existing model.
In addition to the standard printheads for four ink colors, the press can be fitted with an extra printhead for a "fifth color" that enables the use of MICR black ink, invisible UV fluorescent ink, and other special inks.
This email address is being protected from spambots. You need JavaScript enabled to view it.