Published: April 28, 2016
YPRES, BELGIUM | ThermoFlexX will use drupa 2016, May 31–June 10, Düsseldorf, Germany, for the launch of several major additions to its product portfolio, including the completely redesigned ThermoFlexX 20 and ThermoFlexX 30 digital flexo plate imagers. Visitors to the stand, which will be shared with the Flint Flexographic products division, will see a dual-head ThermoFlexX 80-D demonstrated with a new pixel-stitching functionality, plus a ThermoFlexX 48-S on-line to an EVO 3 LED exposing unit. Other equipment will include a basysPrint 861x-B, a CTP system for conventional UV plates.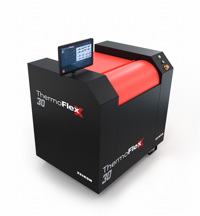 Features offered by the ThermoFlexX 20 and 30 imagers include a choice of resolutions from 2,400–5,080 dpi. Company says the ability to change resolution on-the-fly enables jobs with different resolutions to be produced on the same plate.
The imaging concept consists of three independent modules: the motor, laser, and optics. The flexible design means that replacing any of these modules is straightforward, which simplifies service and hardware upgrades and provides the possibility for remote optical fine-tuning.
Other features incorporated into the new ThermoFlexX 20 and 30 models include what is said to be an easy-to-use clamping system with auto-drum locking, convenient plate loading, a comprehensive user interface, and an integrated carbon filter system.
All of company's imagers utilize IPG fibre lasers operating at 1,064 nm, which are said to combine low energy consumption with high reliability. The imagers will expose any plate with a LAM layer and can handle any thickness from a 0.18 mm ablative film to a 6.35 mm flexo plate. They also support all relevant technologies such as flat top dots.
Imagers accept 1-bit TIFF files generated by any workflow, RIP, or front end and will handle any innovative screens such as hybrid or surface screens.
This email address is being protected from spambots. You need JavaScript enabled to view it.