Published: March 28, 2016
REHOVOT, ISRAEL | Landa announces Nano-Metallography for the graphics metallization market, said to be a quicker and simpler process that will streamline the production of metallized print and improve customer profitability.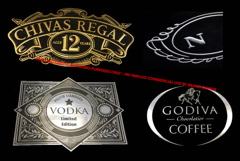 Company says technology is operable with the full spectrum of conventional printing technologies, including narrow web flexo, offset, and screen for the production of labels, sheet-fed offset for folding carton and commercial printing, web offset for publishing, and wide web flexo and gravure for flexible packaging.
"Current metallization processes are prohibitively expensive due to the high cost of foil and tremendous waste," says Benny Landa, chairman of the Landa Group. "Our technology will enable metallization at less than half the cost of foil, with zero-waste—and it's microwave compatible. We expect this technology to be available to customers in 2017."
The process will be on display on a narrow web label press at drupa 2016, May 31–June 10, in Düsseldorf, Germany. Also, Landa will hold theater presentations five times a day for the entire duration of the exhibition. Reservations for the theater presentation can be requested in advance at this link or, subject to availability, may be booked at kiosks on the Landa stand (Hall 9) during the exhibition.