Published: February 08, 2016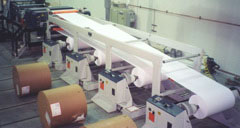 WESTERLY, RI | Maxson Automatic Machinery Company offers a pivot arm shaftless self-loading roll stand that is able to handle rolls from 18–84 in. (457–2,134 mm) in diameter to 10,000 lbs (4,545 kg) in weight at speeds to 3,000 fpm (914 mpm).
Hydraulically powered, the unit loads the roll using the far chucking arm. This arm moves back and forth through a screw drive to accommodate various size rolls. Then clamping pressure is exerted to drive the chucks into the core.
The roll stand is mounted on tracks, which allows it to be moved off line laterally for loading. This allows the sheeter to continue to run while the roll stand is being loaded out of the web flow. This design also permits narrow rolls to be staggered across the width of the sheeter. The roll stand's two-speed traverse permits quick movement for off loading and slow, discreet positioning capability.
Operator simply pushes the roll in between the stand's arms. The roll stand then cradles the roll, chucks it, and lifts it into position. Company says this self-loading feature permits roll changes within 1–2 min. The roll stand is equipped with automatic tension control said to reduce the brake pressure as the roll diameter decreases.
This email address is being protected from spambots. You need JavaScript enabled to view it.