Published: January 07, 2016
WAUCONDA, IL | Menges Roller Company is proud to celebrate 50 years of business in 2016. The company started out in 1966 as a rubber covering company but has expanded into core fabrication and a leader in engineering and design of precision rollers.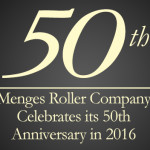 Menges Roller was started by Louis J. Menges, who has since passed. The company is currently led by President Matt Menges. "I look back on my time with my dad, and I have great memories of some hard times but good times. I am proud to continue what he started and to keep the company in the family. I see a bright future ahead."
In the last 50 years, Menges has served the converting, packaging, plastics, steel processing, paperboard and non-woven industries. The company has had steady growth over the years and looks forward to the challenges ahead.
"The economy is a little up in the air right now and has impacted manufacturing globally, but our diversity across different industries has been a big key for us," said Charlie Menges, Director of Sales & Marketing.
Manufacturing is headed by Director of Engineering and Manufacturing, Garrett Rausch. "We are very satisfied with the progress we continue to make every year, whether it's investing in new equipment to make our products better and faster or new equipment to make our operators' jobs easier and safer. We are in a great position moving forward to continue to provide quality products efficiently and on-time."
This email address is being protected from spambots. You need JavaScript enabled to view it.